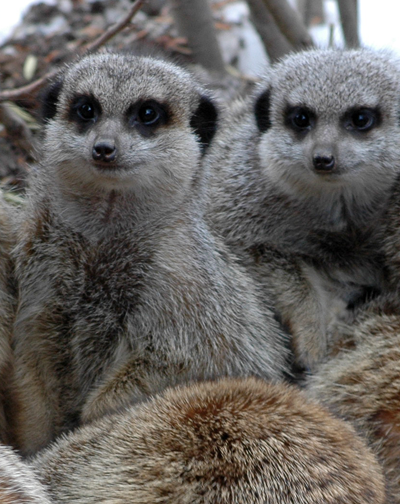 Our Leaders
With our mission and vision to guide them, these are the people who volunteer their time to make sure the greatness of Cheyenne Mountain Zoo continues.
2022 – 2023 Board of Directors
Officers
Tia Ferguson, Chair
Ann Naughton, Vice-Chair
Mike Edmonds, Secretary
Gary Winegar, Treasurer
Bob Chastain, President & CEO
Directors
Vic Andrews
JL Austgen
Jeanie Baratono
Matt Carpenter
Dr. Elizabeth Domangue
Karen Eberhart
Peri Faricy
Marsha Fogarty
Stephannie Fortune
Carlos Jimenez
Susan Johnson
Ken Keene
Carol Kleiner
Kevin Kratt
Trevor Miller
Hans Mueh
Greg Raymond
Betsy Sobral
Brenda Whitlock
Honorary Directors
Susie Burghart
Katherine H. Loo
 
 
With so many animals, programs and events, there's a lot to do. These are just some of the people who make it all possible.
Bob Chastain, President & CEO
Patty Mussone, Executive Assistant
Tracey Gazibara, Executive Vice President
Kathy French, Vice President of Finance
Jeff Halter, Vice President of Animal Care
Dave Ruhl, VP of Operations & Campus Planning
Tracy Hill, Accountant
Becky Cleveland, Career & Life Coach
Stephanie Carrillo, Human Resources
Amy Schrader, Human Resources Assistant
Kelley Parker, Director of Development
Donna Greenfield, Grants & Development Officer
Emily McDermott, Development Officer
Kristen Leonard, Donor Engagement Coordinator
Ashley Cioppa, Membership & Annual Gifts Manager
Adey Abebe, Membership & Annual Gifts Coordinator
Angel Wismiller, Membership & Annual Gifts Assistant
Dr. Eric Klaphake, Head Veterinarian
Dr. Lizzy Arnett-Chinn, Associate Veterinarian
DeeAnn Wilfong, Hospital Manager
Brenda Cordova, Veterinary Technician
Nicole Chaney, Conservation & Sustainability Coordinator
Jeff Baughman, Field Conservation Coordinator
Kaitlin Chamberlain, Palm Oil & Conservation Programs Coordinator
Ashley Arimborgo, Registrar
Steve Carter, Animal Volunteer & Revenue Programs Coordinator
Rick Hester, Curator of Behavioral Husbandry
Jason Bredahl, Animal Care Manager
Jeremy Dillon, Animal Care Manager
Joanna Husby, Animal Care Manager
Rebecca Zwicker, Animal Care Manager
Kevin Pellow, Animal Care Assistant Manager
Lani Garza, Commissary Manager
Jeremy Long, Director of Guest Experiences
Destiny Tuffentsamer, Guest Experiences Manager
Matthew Driftmier, Guest Experiences Manager
Jon Adams, Guest Experiences Manager
Sheva Willoughby, Lead Zoo Architect
Devon Offutt, Facilities Maintenance & Grounds Manager
Greg Stephens, Construction Project Manager
Vicky McNamar, Project Superintendent & Rides Regulatory Compliance Specialist
Denny Patton, Horticulture Field Supervisor
Connor Anglum, Grounds & Events Assistant Manager
James Vanderkolk, Maintenance Assistant Manager
Kirsty Strobridge, Operations Admin Assistant
Jenny Koch, Marketing Director
Rachel Wright, Public Relations & Social Media Manager
Heidi Lopez, Public Relations & Social Media Assistant Manager
Amanda Ulrich, Special Events Manager
Hannah Bragg, Graphic Designer
Jenny Kerchner, Webmaster
Stacey Graham, Director of EdVenture & Career Development
Austin Kennedy, Extended Education Supervisor
Russell Friedman, EdVenture Specialist
Dawn Moon, Outreach Supervisor
Brittinie Ontiveros, Community Programs Supervisor
Jennie Czuba, EdVenture Office Admin
… and many more!