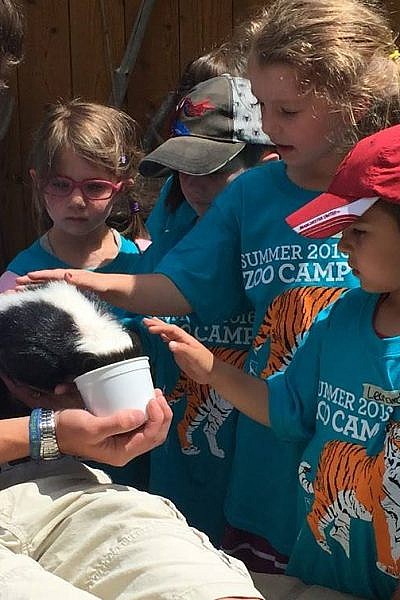 Spring Break – Kindergarten Day Camps
Amazing Adaptations
March 23, 24, 25, 26, 27 – (Monday – Friday)
Times for:
Half-day, 9 a.m. – 1 p.m.
Full-day, 9 a.m. – 4 p.m.
Kindergarten camps are offered as either half-day or full-day camps. Join Cheyenne Mountain Zoo as we embark on an EdVenture to discover all about the Amazing Adaptations animals use to survive! Sign up for the whole week or the days that work for you!
These camps are sold out.
---
Early and Late Care
Care options are available on an as needed basis. If you are interested in setting care up, please reach out to EdVenture Programs at:
[email protected]
719-424-7827
Details
Register for any one day or all five days! Space is limited; therefore pre-registration is required.
Zoo Member discount rates automatically apply to registration costs when booking online at the Zoo's website, after logging in with your Zoo membership username and password.
Campers should sign-up for the camp that reflects the grade they are currently enrolled in.
What to Bring to Camp
– Clothing and Accessories:
Campers should dress comfortably and appropriately for the weather. Layers are suggested and good. Closed toe walking shoes are essential. A daypack, sunscreen, and water bottle are highly recommended! If you have a younger camper- a spare set of clothes might be useful as well.
– Snacks & Lunches:
The Zoo will provide each participant with a daily morning and afternoon snack. You are welcome to pack snacks for your camper as well. Please notify the camp staff of any food allergies your child may have. The zoo DOES NOT provide lunch! Please send your child to camp with a lunch!
– Rest Period Comfort Item (Kindergarten only):
A 45 minute rest period will be offered to Kindergarten campers, so a favorite blanket or comfort item might help them to relax during this time.
Program Refund Policy
A written refund request must be received TWO WEEKS prior to the start date of the program. The $25 deposit is a non-refundable administration fee. No refunds will be given after two weeks prior to the program start date. If camp is cancelled by zoo staff for unforeseen circumstances (e.g. severe weather), a full refund will be issued to the registrant(s). Please visit our Education Registration Policy below for more information.
Payments
Camps must be paid in full at time of registration. Payment includes a $25 non-refundable administration fee, please see above for refund policy.
Health & Safety
This is the foremost consideration for all day camp participants. Camper health information will be with your child's counselor at all times.
Questions