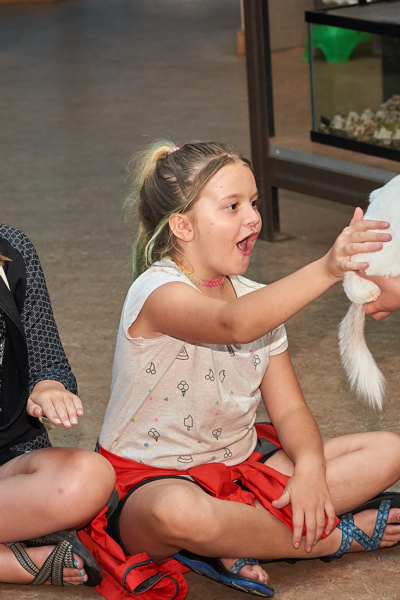 Sleepover – Kid's Only WildNight – Sat., Sept. 12
Do the animals at the Zoo snore or roar in the night? You no longer need to guess! Come see what it's like to spend the night among the creatures at Cheyenne Mountain Zoo. We'll walk through the Zoo at night and discover what happens when the lights go out and the animals are in the dark. Let our fantastic staff do all the work! All you have to do is drop off the kids (and pick them up, of course).
We will have a pizza party, roast some s'mores and go for an evening tour. We'll even get to meet an animal up close! Drop-off is at 6 p.m. and pick-up is at 8 a.m. the following morning. We also provide a grab-and-go breakfast and a morning tour to complete your adventure. Hope to see you there!
Saturday, September 12
6 p.m. – 8 a.m.
Note: Kids must be 5 years or older to participate.
Pre-scheduled WildNight sleepovers give you or your group the opportunity to join others on a WildNight at the Zoo. Meet new people and participate in planned activities—for a real wild night.
Come see what the animals do while the rest of us sleep!
All WildNight sleepover programs include:
– Pizza for dinner served with veggies
– S'more roasting
– A guided evening tour
– Giraffe feeding
– Up-close animal encounter in The Loft
– Zoo Admission for the following day
– Grab and go breakfast
– A guided morning tour
– T-shirts and scout patches are available for purchase during registration check-out
Extras
For an additional cost, the following may be provided (Not applicable to Kids-Only WildNight/Sleepovers):
– Sleeping cot (raised above ground) – $5
– Sleeping mat (lays on ground) – $3
– Extra pizza (sausage, cheese, veggie or pepperoni) – $12 per pizza
– Fruit and/or vegetable tray for any meal – $4 per person
– Catered breakfast (assorted fruit tray, yogurt, granola, coffee, pastries, orange juice) – $9 per person
– Extra animal ambassador (Loft animal collection only) – $35
– Golf cart rental (Driven by Zoo staff only, seats 5) – $20
Please note: If making a merchandise purchase the night of your program please note that credit cards are NOT accepted the day of, cash or check ONLY.
Times
Custom, Scouts, and School WildNights – start at 7 p.m., and end the following morning at 9 a.m., unless otherwise noted.
For Kids Only WildNights – start at 6 p.m., and end the following morning at 8 a.m., unless otherwise noted.
Cost
Costs are listed in the green area at the top of the page.
Options to add special WildNight t-shirts ($20) and patches ($8) or a combo ($25) are available during check-out, or contact us for details.
To Schedule
To schedule any custom WildNight sleepover, complete and submit the WildNight Request Form.
For pre-scheduled WildNights, use the 'Register Now' link provided with its description.
Cancellation Policy Effective from May 1, 2020 through August 31, 2020 – A written request for cancellation received prior to the scheduled program date will receive a refund in full or have the opportunity to reschedule the program for another date.
Questions or to Contact Us
Email [email protected]
or call 719-424-7827