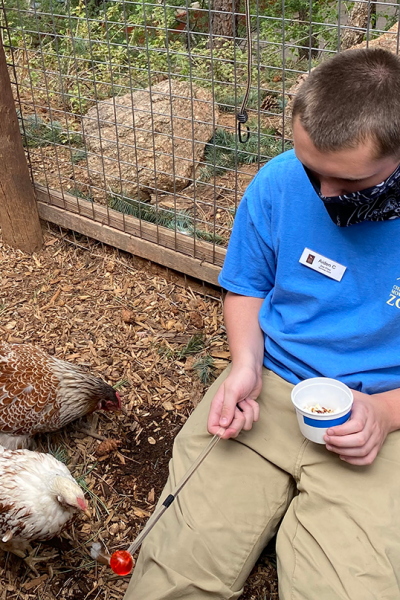 Animal Training Workshop 101 for Teens – Dec. 5 (SOLD OUT)
Saturday, December 5
9 a.m. – 12 p.m.
– All teenagers, 12-18 years old.
– No experience with animals is necessary.
– Registration is required.
This class has sold out. To join the waitlist for our Animal Training 101 classes, please email [email protected]
This new course is for 12-18 year olds who hope to learn more about animal training and how it benefits the animal, the trainer, and the relationship. This class will be taught in a collaborative effort with Zoo staff, and a member of our Youth Leadership Action Board and Junior Zoo Keeper program.
At this workshop we will dive in to:
How to read animal behavior.
Learning how to use operant conditioning to positively communicate and train animals.
Practicing your training using hands-on opportunities with animal ambassadors.
Gaining a better understanding of animal behavior and training techniques that you can apply to your training sessions with an animal at home.
Registration Details
– Registration closes 48 hours prior to program.
– No refunds within 2 days of program start date.
– A written request prior to 2 days of the event will be refunded at a rate of 75%. (25% will be kept for administrative fee)
– Zoo member discounts do not apply.
– Registration is required.
Questions
Email [email protected]
or call 719-424-7827