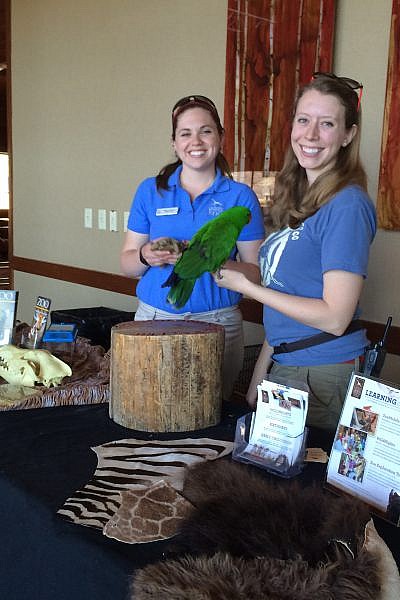 ZOOMobile Informal Booth-style Meet & Greet
Invite Your Zoo Friends.
Looking for a unique addition to your company party, festival, fair, or special event? Bring in the ZOOMobile to enlighten and engage your guests with animals, animal artifacts, and interactive activities!
Details
– Minimum 1 hour set up, maximum 4 hour set up
– Live animal ambassadors with ZOOMobile presenters
– Animal artifact display at the table
– Touch opportunities with animal ambassadors (species dependent)
Discover who may visit you as ZOOMobile Animal Ambassadors

Mileage Fees
Assessed by using Google Maps and are measured from the Zoo to the program location.
Distance charges that may apply:
0-30 miles – FREE
31-40 miles – $30
41-50 miles – $40
51-60 miles – $50
61+ miles – please inquire
---
Title One Scholarship Information
For Title One Schools seeking information about scholarship funding, please view the Opportunity Fund Guidelines and Frequently Asked Questions. View / print the Opportunity Fund Scholarship Application. Opportunity Fund scholarships have limited availability.
Cancellation Policy Effective from May 1, 2020 through August 31, 2020 – A written request for cancellation received prior to the scheduled program date will receive a refund in full or have the opportunity to reschedule the program for another date.