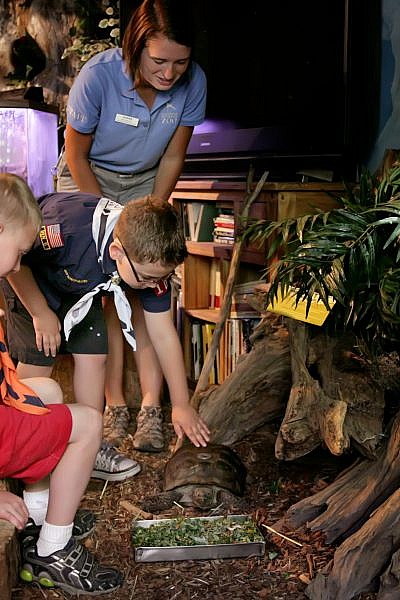 Evening Tours for Scouts
Starlight Safaris focus on a lot of important information in a fun and exciting way for scouts to work toward specific badges.
Our EdVenture staff will cater to each badge to help meet the standard requirements for the troop.
Our most popular topics towards badges:
– Reptile and Amphibian Study
– Mammal Study
– Fish and Wildlife
– Life Cycles
– African Animals
– Conservation
– Habitats
– Bugs and Insects
Please Note: Cheyenne Mountain Zoo Staff cannot sign off on any badges, but can provide your troop with some information required for these specific badges.
Every Starlight Safari evening program includes:
Roasting s'mores
Feeding our giraffe herd their favorite lettuce snacks
A private tour led by EdVenture staff
An up-close animal meet and greet with a CMZ ambassador animal

Time
Starlight Safaris are from 6 p.m. – 9 p.m., unless otherwise noted.
To Schedule:
To schedule any custom Starlight Safari, submit the Starlight Request Form
For pre-scheduled Starlight Safaris, use the 'Register Now' link provided in the green box.
Note: Minimum age 2 years and older with an accompanying adult.
This is not an overnight program.
Custom Starlight Safaris are designed for groups of 6 to 175 people.
Opportunity Fund Scholarship Information
Cheyenne Mountain Zoo has scholarships available for schools, groups, and families that may need financial assistance.
Please download the appropriate application and follow included instructions.
Opportunity Fund Scholarship – Individual Application
Opportunity Fund Scholarship – School/Group Application
Deadline for Summer Camp Scholarships: April 30th, 2021
Questions
Email [email protected]
or call 719-424-7827