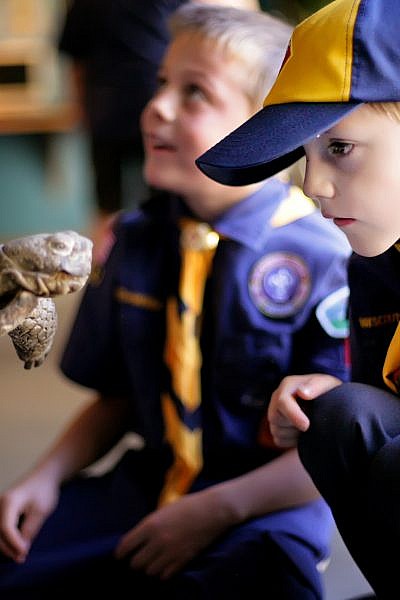 Sleepovers for Scouts
WildNights
A lot of important information is covered in our WildNight programs in a fun and exciting way for scouts to work toward special badges. Our staff will cater to requirements and standards in order for troops to earn their badge.
Bring your Troop for opportunities with these badges:
– Reptile and Amphibian Study
– Mammal Study
– Fish and Wildlife
– Environmental Science
– Veterinary Sciences
Note: Cheyenne Mountain Zoo Staff cannot sign off on any badges, but can provide your troop with some information required for these specific badges.
Cost
Peak Season Cost – May 1 to September 1, Fridays and Saturday night programs ONLY (regular cost applies Sunday-Thursday nights)
Members: $50.75 per person
Non-members: $60.75 per person
Chaperones: One (1) adult chaperone per 10 scouts, $35.75 per chaperone
Regular Cost – year-round 7 days a week, and during Peak Season for Sunday-Thursday night programs only
Members: $45.75 per person
Non-members: $55.75 per person
Chaperones: One (1) adult chaperone per 10 scouts, $30.75 per chaperone
Come see what the animals do while the rest of us sleep!
All WildNight sleepover programs include:
– Pizza for dinner served with veggies
– S'more roasting
– A guided evening tour
– Giraffe feeding
– Up-close animal encounter in The Loft
– Zoo Admission for the following day
– Grab and go breakfast
– A guided morning tour
– T-shirts and scout patches are available for purchase during registration check-out
Extras
For an additional cost, the following may be provided (Not applicable to Kids-Only WildNight/Sleepovers):
– Sleeping cot (raised above ground) – $5
– Sleeping mat (lays on ground) – $3
– Extra pizza (sausage, cheese, veggie or pepperoni) – $12 per pizza
– Fruit and/or vegetable tray for any meal – $4 per person
– Catered breakfast (assorted fruit tray, yogurt, granola, coffee, pastries, orange juice) – $9 per person
– Extra animal ambassador (Loft animal collection only) – $35
– Golf cart rental (Driven by Zoo staff only, seats 5) – $20
Please note: If making a merchandise purchase the night of your program please note that credit cards are NOT accepted the day of, cash or check ONLY.
Times
Custom, Scouts, and School WildNights – start at 7 p.m., and end the following morning at 9 a.m., unless otherwise noted.
For Kids Only WildNights – start at 6 p.m., and end the following morning at 8 a.m., unless otherwise noted.
Cost
Costs are listed in the green area at the top of the page.
Options to add special WildNight t-shirts ($20) and patches ($8) or a combo ($25) are available during check-out, or contact us for details.
To Schedule
To schedule any custom WildNight sleepover, complete and submit the WildNight Request Form.
For pre-scheduled WildNights, use the 'Register Now' link provided with its description.
Cancellation Policy Effective from May 1, 2020 through August 31, 2020 – A written request for cancellation received prior to the scheduled program date will receive a refund in full or have the opportunity to reschedule the program for another date.
Questions or to Contact Us
Email [email protected]
or call 719-424-7827