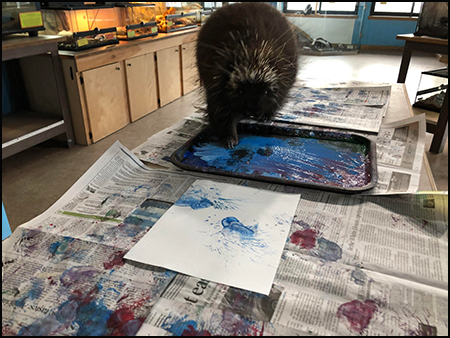 November might be almost over, but the holiday season has just begun! Finding the right gifts can sometimes be the most challenging part of the holidays. If you are stumped on the perfect gifts to surprise your loved ones, don't worry. Cheyenne Mountain Zoo has you covered.
Small mammals, reptiles and birds at The Loft are making special holiday ornaments available for purchase in-person at The Loft.
"Most of our animals who live at The Loft have the choice to participate in painting sessions," said Kevin Pellow, animal care manager in The Loft and My Big Backyard. "Depending on the species doing the painting, they can participate in a variety of ways. Most of them really enjoy the activity, and if they don't, it's totally up to them to move away."
Kale, the North American porcupine who visits from Rocky Mountain Wild, walks through non-toxic paint and then onto a canvas, leaving multicolored footprints and spiky tail smudges in her path. A tasty treat awaits her at the end of the canvas. Mister, the Eclectus parrot, holds a paintbrush in his foot, making traditional brushstrokes on a canvas for a reward. Fred and George run through paint and then step onto a canvas with their usual quickness. Their 'masterpieces' include imprints of their paw pads and whispy accents created by their furry bellies and tails.
"We have canvases available for purchase throughout the year, but we and the animals make special items for the holidays, too," said Pellow. "This year, we're offering wrapping paper decorated by the animals, in addition to large canvases, smaller tree ornaments and star-shaped tree toppers."
The painting sessions are a win-win-win: the animals can enjoy an enriching training session, our guests get to take home a one-of-a-kind piece of artwork, and the funds raised support the Zoo's ongoing animal care, improvements and operations. The art available online and in-person ranges in price from $15 to $49.
Consider picking up unique artwork painted by a truly wild artist. Many animals at Cheyenne Mountain Zoo are artists and can participate in painting one-of-a-kind creations that are sure to spark conversation and brighten any space.
Pieces are available for purchase online (and can be shipped anywhere in the U.S.) or in-person at The Loft. If you really want to "wow" your loved ones, you can purchase a gift certificate to create a painting alongside an animal artist!