More than 50 acres of twinkling lights, over 60 artisan-made light sculptures, breathtaking nighttime city views and the nearby sound of roaring African lions can only mean one thing in Colorado Springs: Electric Safari is back. This year, CMZoo is taking it to another level with the additions of light displays synchronized to music and giant illuminated animal inflatables that make a perfect backdrop for unique holiday photos with friends and family. Make plans now to see why Cheyenne Mountain Zoo's Electric Safari was voted third best Zoo Lights in the nation by USA TODAY's 10Best Readers' Choice Awards in 2020 and 2019. Tickets go on sale Tuesday, Nov. 2 at 9 a.m. MT at cmzoo.org/electric.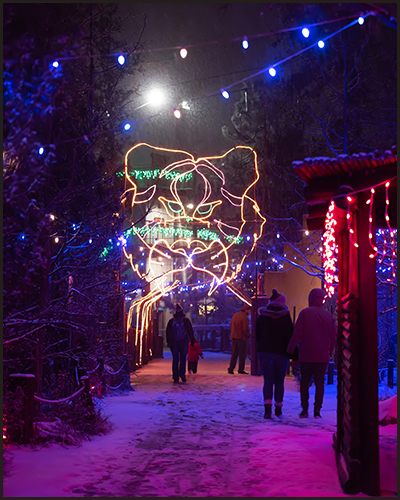 Cheyenne Mountain Zoo's 31st annual month-long celebration of the season will begin Friday, Dec. 3 through Sunday, Dec. 5, and continues Friday, Dec. 10 through Saturday, Jan. 1. On Friday, Dec. 24, Christmas Eve, Electric Safari is closed, but the Zoo is open for daytime admission from 9 a.m. to 3 p.m.
"We're looking forward to welcoming our members and guests back to this Colorado Springs holiday tradition, and we can't wait for everyone to see the brand-new musical light displays and larger-than-life illuminated inflatable animals," said Amanda Ulrich, CMZoo special events manager. "Our amazing grounds and maintenance teams work for four months to light up the Zoo for our community. We've been working hard to prepare for Electric Safari and to continue improving the event. I can't wait to see the joy on everyone's faces as they bundle up and explore our magical winter wonderland!"
Electric Safari admission is free for CMZoo members. Advance timed e-tickets are required for members and non-members. As a way to thank CMZoo members, they and their accompanying paying guests are granted early admission from 4 to 5 p.m. General admission is from 5 to 7:30 p.m. and the event ends at 8:30 p.m. Guests have a 30-minute entry window, beginning at the time they select when reserving tickets, and are then welcome to stay until the event ends. On Electric Safari dates, the Zoo closes for daytime admission at 3:30 p.m. to prepare for Electric Safari. All parking for Electric Safari will be on-site at the Zoo.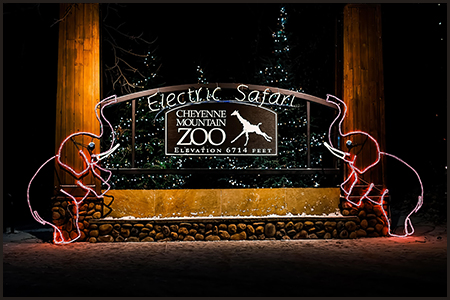 "One of my favorite parts of the event is seeing kids' faces light up when they see Santa," said Ulrich. "There's usually a happy gasp followed by, 'There's Santa!' when they first spot him. Santa has been attending this event for many years, and he loves to take time talking to our guests and posing for holiday photos."
Kris Kringle will be in Safari Lodge through Dec. 23 to hear holiday wishes, collect lists and pose for free photos (just bring a camera!). The Mountaineer Sky Ride will be open (be in line for the Sky Ride by 7:30 p.m.; $3 per ticket; free for guests 2 and under; weather permitting) to provide incredible once-a-year views of the nighttime glow of Colorado Springs' holiday lights as a backdrop from the mountainside of dancing and twinkling lights.
Electric Safari wouldn't be complete without visits with CMZoo's animals! Most animal exhibits are open, and guests can enjoy feeding the world famous 17-member giraffe herd in their warm barn for $3 per lettuce bundle, or $5 for two bundles. Guests can also walk through the lights and displays while visiting animals in Water's Edge: Africa (where they can visit CMZoo's 4-month-old hippo calf, Omo, and his mom, Zambezi, his aunt, Kasai, and his dad, Biko) the elephant and rhino barn, African lions, Rocky Mountain Wild (except grizzlies), Asian Highlands, Scutes Family Gallery, The Loft, and Australia Walkabout. Primate World is closed during nighttime events.
Grizzly Grill, Cozy Goat, Pizza with a View, Elson's Place and the gift shop will be open to serve food and beverages. Outdoor heaters throughout the Zoo help keep visitors warm in between the indoor animal exhibits.
Electric Safari is sponsored by Children's Hospital Colorado, Colorado Springs Pediatric Dentistry, Raising Cane's, your Colorado Springs Toyota dealers and US Bank. For more information and to reserve required advance e-tickets starting Nov. 2, visit: cmzoo.org/electric.