These are certainly abnormal times, but we're forging ahead as normally as possible — and that means it's time to start planning Summer Zoo Camp! Although the future is a little unclear, our goal is to operate summer camp as we do every year, with lots of fun animal experiences for campers from kindergarten through ninth grade! Cheyenne Mountain Zoo will pay close attention to this ever-changing situation and adjust camp programs as needed to adhere to any guidelines in place during camp season.
Summer Zoo Camps have been very popular in past years and registrations are limited, so plan for the best-case scenario and register now at cmzoo.org/summercamp.
We're excited to share some of the new offerings for Summer Zoo Camp 2020! Here is just a sample of some of the camps to look forward to: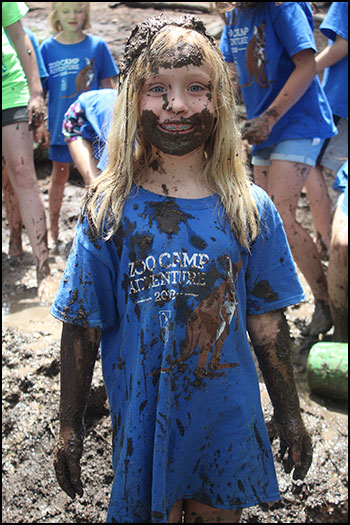 Kindergarten Camps include a Sensory Safari, Animal Who's Who, and a fun new camp focusing on animal movements. Animal Movin' and Groovin' gets campers up and moving like a peacock shaking its tail feathers! It's time to groove your way through the Zoo and explore the wonderful world of animal locomotion! (New this year: Full-day and half-day camps are available for our Kinder-campers!)
First- and Second-Grade Camps feature themes like Wild by Design, Home Sweet Habitat, and an imaginary international expedition, called Global Safari. Our planet is home to an abundance of diverse landscapes, remarkable cultures, and incredible animals. It's a WILD world out there! Travel around the Zoo with us as we explore our animals and uncover the wondrous worlds their wild counterparts call home.
Third- and Fourth-Grade Camps focus on animal fun facts, animals' unique abilities and some gross-but-normal things in the animal world. Your camper can choose from Creature Kitchen, Animal Champions or Grossology for their summer camp adventure.
Fifth- and Sixth-Grade Camps involve animal detective work! New this year is Furensic Files, where we work in conjunction with U.S. Fish and Wildlife Service and the National Wildlife Property Repository. Campers will use their sleuthing skills to solve a pretend wildlife trafficking case.
All of these options (plus a few more for each age group), more information and registration are available at cmzoo.org/summercamp. Be sure to sign your camper up for the grade they are entering in the fall.
We can't wait to see you at Summer Zoo Camp!