TWO-YEAR-OLD RAE SETS OFF FOR LINCOLN PARK ZOO IN SEPTEMBER
In September 2019, Rae, two-year-old CMZoo reticulated giraffe, will be embarking on her next adventure as an animal ambassador at Lincoln Park Zoo, in Chicago, Ill. The daughter of Msitu and Khalid, and sister of newborn, Viv, and six-year-old, Emy, who now lives in Peoria, Ill., will be dearly missed by CMZoo staff and giraffe fans. But, as she joins a new herd, she will have the opportunity to reach and inspire a new group of people who are sure to fall in love with the curious and social giraffe, as so many did during her time at CMZoo.
In anticipation of Rae's move, Kayla Ringuette, a CMZoo giraffe keeper who has a special bond with Rae, shared some of her favorite memories of Rae.
"We didn't have live cameras for Rae's birth in 2017, so I was the first keeper to meet her," said Ringuette. "Once Rae started taking food when she was a few months old, I would feed her every opportunity I got in order to build our relationship before asking her to do behaviors. I may have gotten carried away, since she was the first animal I've ever trained that had no prior training history with people. I think it's because of that relationship building that she follows me around everywhere I go. I actually created a montage of pictures where you can see every other giraffe doing something in the background, interacting with enrichment or browse, and she's right nearby staring at me."
Over the next two years, Ringuette and Rae continued to develop a trusting relationship, which Ringuette says is in large part because of Rae's natural curiosity about people.
"Rae was eager to interact with keepers and staff right from the very beginning," Ringuette said. "In training sessions, she is always really curious. She likes to sniff at hoof trimmings on the barn floor after we do our routine hoof work with the herd. We've even had to stop a training session because she refused to stop sniffing the person's gloves while they were trying to work on her feet. We eventually realized we didn't need food to reinforce her behaviors during those trainings, because she would rather smell the trainer's gloves."
As Ringuette and her fellow keepers continued building relationships with Rae, her trust in them stood out, especially in one memory Ringuette recalls of Rae's first time going into a narrow area of the barn, called a chute. Making sure the giraffe are comfortable in this area is extremely important. If a giraffe ever needs medical attention or needs to be transported, they need to be comfortable in this space. The chute isn't as wide open as the rest of the barn, which can make the giraffe unsure.
"One of my favorite memories is the first time Rae came into the chute," Ringuette said. "The chute can be kind of a scary place for a giraffe going through it for the first time. You're asking this naturally skittish animal to enter a space alone, where they can't see very well because of the blind corners. Even after being able to investigate the area with mom, Msitu, Rae still wasn't comfortable. I decided to try walking her through myself while I reinforced her with food, and it worked! Building trust with an animal to the point that they will follow you into an uncertain place that they wouldn't even go into with their mom was the most rewarding experience I could ask for as her caretaker."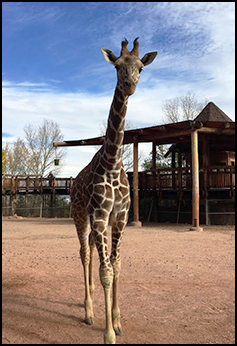 Rae has spent a lot of her time with herd mate, Bailey, a seven-year-old female who is equally as energetic and curious about people.
"They've always been mischievous together, testing off-limits areas of the yard and running around, making the rest of the herd excitable," Ringuette said. "Bailey is our other really social giraffe, so it's typically one of them breathing on your neck from the other side of the barrier, when you're focusing on something else."
Rae's outgoing demeanor is sure to serve her species well, as an ambassador that makes connections with people, which we hope will inspire them to take action to protect their relatives in the wild.
"Her gregarious nature makes people fall in love immediately, since it seems like she is picking you out of a crowd," Ringuette said. "She makes you feel very special. Creating connections with people is ultimately her job, and she's so great at it."
As part of the Species Survival Plan (SSP), Rae will join Lincoln Park Zoo female giraffe, 21-year-old Etana, and a young male giraffe, Finely, who is three. Under the same recommendation, a female giraffe who could breed with Khalid will join CMZoo's herd later in the month.
"I will miss my little shadow, but I have very high hopes for this girl in her new home," Ringuette said. "She is a rockstar with training, and she is already such a great ambassador to her species at two years old, that she is going to make many guests fall in love with her for the rest of her life in her new home."
Guests are welcome to come and visit Rae to share their well wishes before her move, every day of the week at Cheyenne Mountain Zoo.