Celebrating birthdays in this unusual time can be tough, but Cheyenne Mountain Zoo has a new and fun way to (safely) celebrate that special day! The Birthday Party Pack is an all-inclusive Zoo visit that allows guests to socially distance, see animals in person, and get some great birthday amenities.
Birthday Party Pack includes the following for up to 10 people:
– Zoo admission and orientation from a Zoo employee
– Animal feeding coupons for giraffe, budgies, and chickens!
– A voucher for a full pizza from the Grizzly Grill
– Cotton candy treat cups
– A personalized birthday button for the birthday person
– Gift bags for the kids
– A Cheyenne Mountain Zoo souvenir tote bag
The Birthday Party Pack is a great way to see the whole Zoo, interact with our amazing animals, and celebrate a Zoo-themed birthday at your own pace.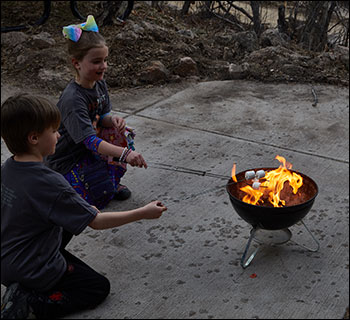 If a more intimate Zoo outing is your speed, then Starlight Safaris are a wonderful way to celebrate! Starlight Safaris are guided evening tours of the Zoo complete with s'mores and hands-on animal interactions. When the Zoo is closed for the evening, you just might see who the real 'party animals' are!
ZOOMobile parties are also a fun option for those who would rather invite the Zoo into their home. With ZOOMobile parties, you can have 4 to 10 different animals and their zookeeper visit the party and celebrate with you. The birthday person even gets to help with some extra-special feeding or animal training. ZOOMobile parties are sure to make your birthday celebration extra wild!
These party options can be customized to celebrate other milestones like baby showers, engagements, retirements, graduations and more. Let us know the special event, and we will help you celebrate!
To learn more about all the birthday party options and to register for your next celebration, please visit cmzoo.org/birthdays.