Tsavo Trust is a field-based non-profit organization in Africa that uses aerial surveillance and on-the-ground field efforts to protect wildlife in Tsavo National Park, the largest national park in Kenya. Through the Quarters from Conservation program, Cheyenne Mountain Zoo's members and guests have supported Tsavo Trust since May 2016.
The organization was founded to help protect the last of the 'big tuskers,' which are likely the last viable genetic pool of African elephants with tusks weighing more than 100 pounds each. The park is also home to a number of black rhino sanctuaries established by the Kenya Wildlife Service (KWS) and supported by the Zoological Society of London. The black rhino is critically endangered, due primarily to illegal poaching for their horns.
In partnership with the Kratt Family Foundation, CMZoo continues to support Tsavo Trust's mission by funding ongoing infrastructure development and community outreach projects. Supporting staff salaries and on-site maintenance allows the team on the ground to more efficiently protect the animals at risk. Last year, CMZoo sent support for clean water wells for Tsavo Trust headquarters and a nearby community, which helps bridge relationships with locals who can help Tsavo Trust identify emerging issues that could impact wildlife in the area. This was funded by the Zoo's daily elephant and rhino feedings, which are available during summer months when weather permits.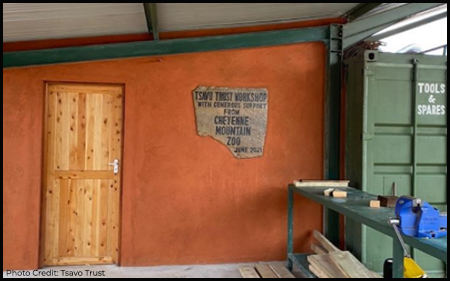 This year, CMZoo's funding has helped support a full-time business administrator, a full-time conservation officer and low-flying reconnaissance pilot and a newly completed workshop, where the team can efficiently maintain its fleet of 12 ground vehicles. Keeping those all-terrain vehicles in working order means the team can effectively reach elephants and rhinos that need them.
"Imagine having your headquarters in the middle of Tsavo National Park," said Dr. Liza Dadone, CMZoo vice president of mission and programs. "You're protecting roughly 16,000 miles of land that is vital to the survival of the last of this incredible population of African elephants, but the lack of services can present obstacles that could mean life or death for an elephant. If a vehicle broke down in the past, it could have caused a significant delay in getting to the elephants in the field. Now, Tsavo Trust teams can maintain their vehicles on-site and get where they're needed – with the elephants and rhinos in the wild."
From January to June 2021, Tsavo Trust flew more than 28,000 miles above Tsavo National Park, monitoring elephants, rhinos and other wildlife from the skies. The Tsavo Trust airplanes give their team the best vantage point for identifying threats to the animals, which are relayed to Tsavo Trust protection and monitoring teams, on foot and in vehicles, who can take action on the ground.
"I hope our guests can feel the impact they're making through our partnership with Tsavo Trust," said Dr. Dadone. "By visiting the Zoo, you're sending financial support directly to the team who keeps a watchful eye on these magnificent animals and anyone who might want to harm them."
In that same period, Tsavo Trust has made 28 arrests, including poachers and ivory dealers, and recovered 417 snares and traps.
Every visit to the Zoo is conservation in action. Cheyenne Mountain Zoo and its supporters, guests and members have raised more than $3.4 million since the Zoo's Quarters for Conservation program launched in 2008.