On Monday, Sept. 23, CMZoo giraffe lovers said a heartfelt goodbye to two-year-old Rae, a reticulated giraffe who moved from CMZoo to Lincoln Park Zoo, in Chicago, Ill. That same day, two-year-old female reticulated giraffe, Panya, joined the CMZoo herd from Memphis Zoo, on a breeding recommendation from the Association of Zoos and Aquariums (AZA) Species Survival Plan (SSP).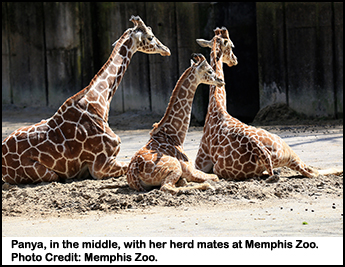 "We were pleasantly surprised because about 20 minutes after she came into the barn from her transport, she took food from us," said Rachael Hahn, African Rift Valley animal keeper. "That's not something we anticipated, but she took a few pieces of elm browse and some lettuce right away. That was a really exciting indication that it could be a smooth transition for her into her new home and herd."
The name 'Panya' comes from the Swahili word for 'mouse.' Memphis Zoo keepers tell CMZoo that Panya was the one of the smallest calves they have ever seen, weighing in at just about 95 pounds at birth.
With tips from giraffe keepers, when visitors can meet Panya they should quickly be able to identify her. The first clue is her stature.
"She is adorable and really tiny. She's even smaller than Rae," said Amy Schilz, senior lead animal keeper in African Rift Valley. "Fans should be able to easily identify her in the herd, because she has a fuzzy young-giraffe coat, short legs and a tall body, like [29-year-old female CMZoo giraffe] Riyadh and spot patterns similar to Mahali [16-year-old male CMZoo giraffe], with lots of white splotches in her spots. She also has really long tail hair, for now, since the rest of the giraffe herd haven't 'styled' it yet."
Panya's keepers at Memphis Zoo describe her demeanor as, "a mixture of personality. She can be very timid at times, but also has a curious side, often watching intently as her keepers work in nearby stalls. She is sassy and full of attitude, as well."
CMZoo giraffe keepers have observed Panya getting excited and spreading her feet to play a little bit, which may be interpreted as a sign of nervousness, so keepers are taking the introduction to the herd slowly and carefully.
"She's doing really well, getting to know us and the herd while she completes her quarantine period in the barn," said Hahn. "She can see and smell all of the other giraffe from her current space, and [17-year-old] Msichana, one of our female giraffe, is spending some time with her. Msichana historically has been a good companion, so we chose her to help Panya settle in. Female giraffe are herd animals, and usually prefer to have a buddy."
Quarantine periods last about a month. Msichana and Panya are sharing a space for about 30 minutes at a time, for now. Keepers will work to increase that time together over the coming days.
"We're following her lead, like we do with all of our animals, so we're moving at her pace," said Hahn. "She's telling us that a new place, new keepers and a new herd are enough for now. We wanted to give her a little more time to settle in, which we know our giraffe fans will understand."
"The SSP looks at the genetics of all giraffe in AZA-accredited zoos, and Panya is a great match for our breeding bull, Khalid," said Schilz. "Hopefully she'll join our herd as a breeding member and will someday have a calf of her own. We're really excited for her to be a part of our herd, and for everyone to meet her."
Guests can already come and see Panya in her quarantine area of the giraffe barn. Stay tuned to CMZoo's social media channels to learn when visitors can come and meet Panya with the rest of the herd, in African Rift Valley at Cheyenne Mountain Zoo.