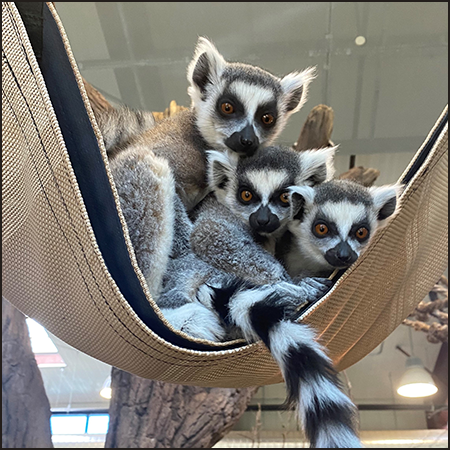 Keepers recently noticed Anja, a 5-month-old ring-tailed lemur pup, appeared to be consistently clenching her hands. The extremely energetic little lemur didn't appear to be having any mobility issues as a result, but because lemurs use their hands to grip trees and move around, keepers wanted to keep a close eye on her. She was keeping up with her twin brother, Elo, and older half-brother, Maky, just fine.
"Once Anja gained independence and wasn't spending most of her time clinging to her mom, we noticed she wasn't opening her hands all the way," said Grace Sullivan, Water's Edge: Africa keeper. "She's constantly leaping around with her brothers, so we're not concerned about her well-being, but if there's something we can do now to help her avoid any potential future limitations, of course we want to do that."
Water's Edge: Africa keepers and CMZoo's veterinary staff teamed up to check on little Anja, and didn't see any injuries or unusual bone structure. There's no formal diagnosis at this point, but it appears she has tight ligaments.
After consulting with a veterinary sports medicine and rehabilitation specialist, her team built a physical therapy routine for Anja. The routine has similar goals as the exercises prescribed by physical therapists at Children's Hospital Colorado's Sports Medicine Center, partners of CMZoo.


"During her therapy, we ask Anja to hold onto a wooden pole and then we turn the pole slightly so her fingers open up," said Sullivan. "She's really smart, and she loves the training rewards she receives during the sessions, so she's usually eager to participate."
Anja doesn't appear to experience discomfort during these training sessions and keepers have seen some improvement in her range of motion since starting the therapy in mid-November. Keepers do this behavior with Anja three times a week.
In addition to training, the team added some obstacles to Lemur Island that encourage her to stretch those tight ligaments as she moves around throughout the day. There's a series of bamboo poles attached perpendicularly to another pole, which the lemurs have all enjoyed exploring. The poles are a wider circumference than other climbing opportunities on Lemur Island, so Anja's fingers get a good stretch while she navigates, as has fun at the same time.
"The lemurs also share a new rope hammock made of thick ropes set far apart," said Sullivan. "It's enriching for all of the lemurs to explore these new items, but we're especially happy to see Anja using them successfully."
The team will continue working with Anja to gain flexibility in her fingers.
"We talk about how there's always a balance when you're addressing any potential struggles an animal might face," said Sullivan. "We want to make sure Anja is okay, but we don't want to go too far with treatments or diagnostics if she can clearly do all of the lemur things she needs to do with her hands as they are. Her hands might just be another thing that make this little one so special, in the long run. For now, we're seeing the exercises help, so we'll keep doing them."