It's officially back-to-school season. While our partner, Children's Hospital Colorado, helps parents prepare for the academic year ahead, Water's Edge: Africa keepers are helping 4-month-old ring-tailed lemur, Maky [MAH-kee], take his first steps toward training!
Many animals at the Zoo participate in voluntary training, which allows them to choose to participate in their own health care and other husbandry behaviors for their well-being. One of the first steps in training is building a trusting relationship between the animal and its keeper team.
"Developing a relationship with a young animal is one thing, but the real test is our relationships with their mothers when we need to work with them," said Phil Waugh, lead keeper in Water's Edge: Africa. "The fact that our ring-tailed lemur moms are comfortable with us being close to and even touching their babies is a huge signal that they trust us – not only with their safety, but with their babies' safety."
Maky's mom, Rogue, calmly sits by, snacking on raspberries, as the Water's Edge team comes onto Lemur Island to see if Maky wants to train. The young lemur is clearly excited by all of the activity – and snacks. He may be young, but he has mastered the art of speed leaping. He jumps quickly from one branch to another to make it over to the keepers, even beating his dad, Hercules, for top positioning closest to his trainer, Erin.
"Maky is incredibly confident with his team, and he's full of energy," said Waugh. "He's young, so his training will start with learning to focus on one keeper and one task at a time. He's quite a rambunctious little student, so it's endearing to see him really harnessing that focus to participate with his keeper team."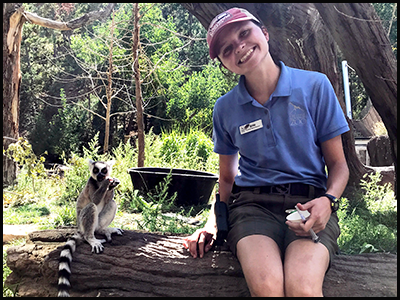 Little Maky is also learning to accept voluntary injections. The team will start by simply bringing a syringe without a needle near him, so he can see what it looks like. Then, they'll touch him with the syringe, then add a blunted needle until he's totally comfortable with it. Injection training is often a top priority for new or young animals, since it helps them receive vaccinations they need with as little stress as possible.
CMZoo's three adult lemurs, Allagash, Hercules and Rogue, are injection trained, too. They have also learned more complicated behaviors, like voluntarily loading into a transport crate for low-stress moves from Lemur Island to the vet clinic, for example. They continue to learn, too! They're working on presenting different parts of their bodies for keepers to touch and check for possible wounds or other issues.
"Allagash, who gave birth to twins in July, has also shown us she's comfortable with us getting close to her babies," said Waugh. "When we ask her to stretch up or show us her belly, she's happy to do it. It helps us do visual checks on her and the twins, while they're still clinging to her back and chest most of the time."
Maky spends very little time on his mom's back anymore, but still seems to like sitting next to her for the lemurs' daily morning sunbathing sessions. We hope you all do well as you head back to school, and that you get lots of rewards for your training, just like Maky!