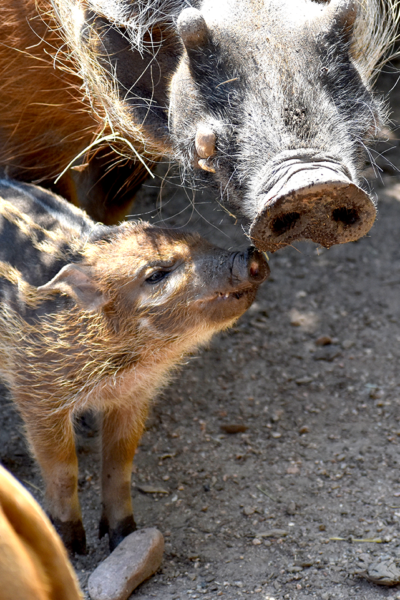 Name Our Hoglet!
IT'S A BOY! In keeping with CMZoo's tradition of naming baby animals after one month of age, it's time for this little ball of energy to get a name! To celebrate, we're offering the unique opportunity to bid to win the rights to name this little boy and support the Zoo in an extraordinary way.
Bid to Name our Newest Red River Hog
Win the chance to name our little hoglet before the window closes Wednesday, Sept. 28, 2022, at 7 p.m. MT
The Winner will Receive:
The unique opportunity to name* the hoglet.
A chance to meet this adorable little hoglet in-person!
The winning bid will directly support CMZoo's world-class conservation, education, and animal care programs.
– The little hoglet is growing quickly and is bonding with his family. He seems to like picking up sticks and pieces of produce, jumping over logs, climbing onto his family members, getting 'zoomies,' and rooting in the mud. We haven't yet confirmed the sex of the baby because it and mom have been doing so well that we haven't needed to examine it up-close.
– Mom, Zena, is protective and patient as her spunky little one zooms through the yard, jumps over logs, wallows and joins in the family cuddle puddles.
– Huey, an active and engaged dad, is already showing the little hoglet how to wallow and use his snout to root around the yard.
– First-time big sister, Pinto, is getting more and more comfortable with this inquisitive little one who likes to walk underneath her and make mud wallows near her.
Inspiration & Tips
If you need inspiration for a name or just some Red River hog-family cuteness:
Interested in supporting animal care?
Make a donation to help care for the baby Red River hog and all the animals at CMZoo!
Donate here to support our mission
*All names are subject to approval by the Cheyenne Mountain Zoo.