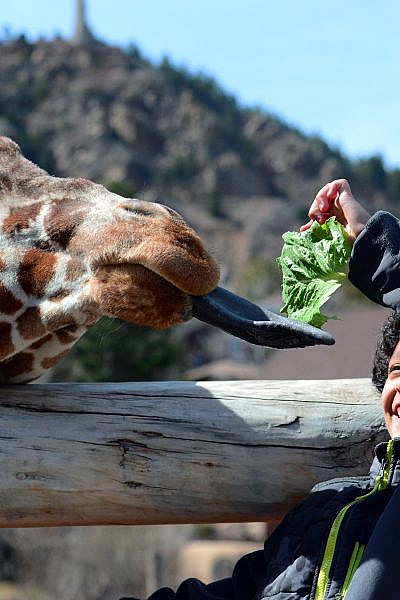 About
Cheyenne Mountain Zoo is about sharing the wonders of the natural world with kids of all ages and providing memories for a lifetime. Here, you do more than just look. Ranked as one of the top zoos in the country by USA Today 10Best and TripAdvisor, you'll get to explore newly renovated and award-winning exhibits.
Experience a zoo like no other, on a mountainside overlooking Colorado Springs. Discover more than 30 species of endangered animals. Interact with our giraffes and don't miss the chance to hand-feed them! Soar over your favorite animal exhibits and take in breathtaking views of the city below on the Mountaineer Sky Ride. We look forward to providing you an experience of a lifetime with your visit to America's only mountain zoo!
Our Mission
A leader in conservation, captive breeding and animal care, Cheyenne Mountain Zoo connects people with wildlife and wild places through experiences that inspire action.
Our Vision
Every Kid. Every Time. Goosebumps!
Every kid, of any age, will have an experience for a lifetime with every visit.
Our History
A Long History and Promising Future. The Cheyenne Mountain Zoological Society was founded in 1926 by philanthropist Spencer Penrose to house his growing collection of exotic animals. In 1938, after substantial development, Mr. Penrose deeded the Zoo as a non-profit public trust to the people of Colorado Springs. This trust was deemed "for the sole purpose of establishing and maintaining a zoological park to provide recreation, education, conservation and scientific facilities in the field of zoology and related subjects, and to preserve the Zoo in perpetuity for the people of the Pikes Peak region."
Today, the Zoo has been successful in transforming a visitor's experience from a passive viewer to an active participant. Visitors are submerged into culture and habitat, inspiring a new respect for the preservation of wildlife through hands-on education and creating a "never to be forgotten" experience.
Cheyenne Mountain Zoo is currently one of only a handful of accredited zoos in the nation that operates without local tax support. As an independent, non-profit 501(c)(3) organization we depend on admissions, membership dues, corporate sponsors, donations and grants for funding.
A Man with Vision.
An influential founder of many important landmarks throughout the Pikes Peak region, Spencer Penrose had vision. Whether he was building new roads or establishing charitable organizations, Penrose was involved in a host of groundbreaking projects.
Beyond that, Penrose had a lifelong interest in animals and was given a bear in 1916. This bear was the beginning of an exotic animal collection that he added to every year. As Penrose's collection grew, he kept the animals at his ranch and at The Broadmoor Hotel, which he founded. By 1926, Penrose started Cheyenne Mountain Zoo, which eventually became home to his animals and many more.
Mountaineer Train.
What Once Delivered Visitors Now Welcomes Them. This futuristic little train used to bring visitors round-trip between The Broadmoor Hotel and Cheyenne Mountain Zoo from 1950 – 1974. After being sold to other organizations and being put out to pasture – literally – the Mountaineer Train's engine was restored in 2005 and now rests on the only remaining stretch of track at the Zoo's entrance – in the northern corner of the main Zoo parking lot.
Our Future
Growing and Evolving for Tomorrow. The Zoo prides itself on continuously evolving, creating exciting new and updated exhibits that give our guests the opportunity to understand and fall in love with animals and nature. By transforming the guest experience from a passive viewer to an active participant, the Zoo strives to encourage an appreciation and respect for the dignity and intrinsic value of all living things. Our hope is that this appreciation will inspire guests to make a difference in the natural world.
Zoo's Master Plan
Originally created in 1989, the Zoo's Master Plan allows us to make changes and improvements by replacing deteriorating exhibits and buildings and improving visitor accessibility, convenience and safety. Over the past two decades, more than $30 million has been raised from community individuals, foundations and corporations and invested to replace or repair outdated Zoo facilities and exhibits.
Master Plan improvements made at the Zoo include: Asian Highlands (1996), Lions Lair (1997), My Big Backyard (2001), African Rift Valley (2003), Rocky Mountain Wild (2008), the Front Entry Plaza and Grizzly Grill (2010), Scutes Family Gallery (2012) and Encounter Africa (2013), The Overlook (2014), Australia Walkabout (2015). See Zoo timeline for complete listings.