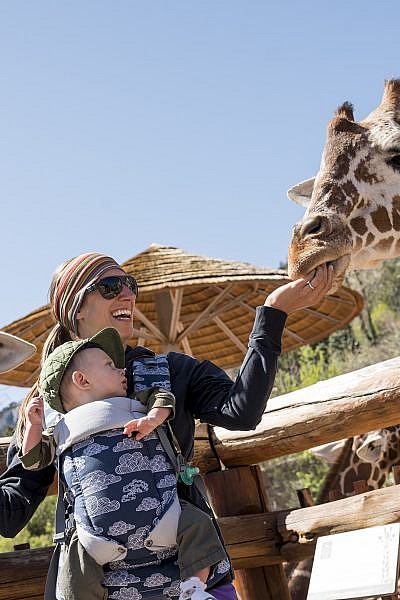 Membership
Value, plus fun. Did you know a Zoo membership can pay for itself in as few as two visits? More than that, $100,000 of membership revenue goes directly to the Zoo's field conservation efforts! Annually, member votes help us decide which conservation projects receive this revenue. Together we're protecting the future.
A Message to Our Members During COVID-19
At almost $3 million a year, the revenue you and your fellow members provide the Zoo is critical to our continued operation following this tragic pandemic. During our closure due to COVID-19, your help is especially important. Allowing a current membership to retain its original expiration date, without requesting an extension, helps reduce the impact on the revenue we rely on each year. As a thank you to those who do not request an extension during this time, we will invite them to a members-only viewing of Water's Edge: Africa.
Apply your general admission tickets* from your visit to the cost of a new Zoo membership! We'll honor your receipt for 14 days after purchase. See Membership FAQs for more details.
It's this easy
Email a copy of your receipt to [email protected]
or call 719-424-7830. Upgrades cannot be applied to online membership purchases.
* Restrictions apply After-hours events, like Electric Safari and Boo at the Zoo, do not apply. Only tickets covered under the membership can be applied.
We appreciate our Corporate Members!
When you join the Zoo as a corporate member, we'll list your company on our Companies for Conservation webpage the entire year you are a member! These sponsorship donations help contribute to over $2 million spent caring for our huge giraffe herd; our grizzly bears, Emmett and Digger; a pride of lions; a Mexican wolf pack and so much more!
MY CART
A Zoo membership pays for itself in only 2 visits! (Membership cards require between 10 to 14 days to process, but you don't need the membership card to visit the Zoo. While waiting for your card, simply check in with a picture ID at the front gate.)
Join or renew online below, or download a membership form
*Please Note
– To clarify children who are, or are not, covered on a membership – please call our membership office 719-424-7830.
– If you have recently renewed your membership with no change to your information, please continue to use your existing membership card as a part of our "Go Green" initiative.
– If you no longer have a membership card, let us know and we'll print and send a new one for a $5 fee. In the meantime you can check in using a valid photo ID at any admissions window.
– Memberships cannot be refunded, downgraded, pro-rated or extended after purchase.
– Prices and benefits subject to change.
---
365 days of FUN!
Enjoy a year of FREE daytime admission to the Zoo. Stay for a full day or pop-in for an hour or two!
There's always something new at the Zoo!
From baby animals to wild new exhibits, your Zoo membership is a ticket to new adventures!
More value than ever!
Your family membership can pay for itself in as few as two visits!
Exclusive members-only events and summer hours!
Beat the crowds every Saturday and Sunday, June through August, with members-only early (8 a.m.) admission. Come early and watch the Zoo wake-up!
Unlimited free visits to Electric Safari!
December's holiday lights extravaganza is FREE and unlimited for Zoo members!
Special savings!
WILD learning adventures are available for kids of all ages! Members receive discounts on educational programs, camps and birthday parties… plus, a 10% discount at Thundergod Gift Shop (by showing your Member card and photo ID! (Does not include stroller/wagon rentals, sale items, books, film or food.)
FREE monthly eNewsletter, The Waterhole!
Stay updated about new animals and Zoo events with The Waterhole, our monthly eNewsletter!
It's memorable!
Cheyenne Mountain Zoo holds a 4.8-star rating (out of 5), with more than 24,400 reviews on Google and social sources. It holds a "Certificate of "Excellence" from 2013 – 2018, with 4.5 (out of 5 stars) and more than 4,015 reviews on Trip Advisor. And, it was voted one of the top zoos in the country three consecutive years in a row by USA TODAY 10Best Readers' Choice Awards (2017, 2018 and 2019). What memories will you make this year?
Help save endangered species with every visit!
Because of members, $100,000 of membership revenue supports field conservation in the wild. Even better? Our members get to vote which conservation projects we support! By being a member, you help us change the world.
We need you!
Of more than 200 AZA accredited facilities, Cheyenne Mountain Zoo is one of only a handful of zoos that operate without local or regional tax support. Your membership support is critical to our work! Together, we can provide the care our animals deserve while ensuring your Zoo remains a source of pride for your family and the community.