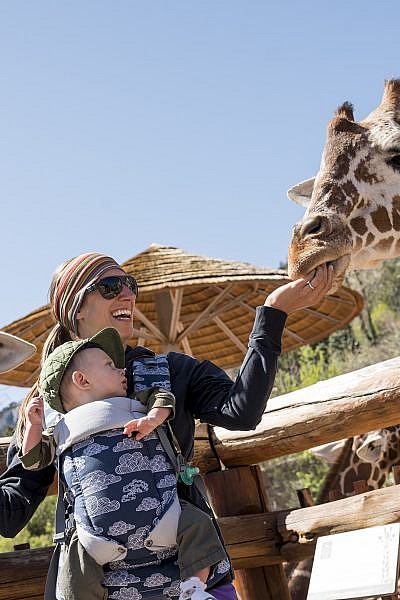 Membership
Value, plus fun. Did you know a Zoo membership can pay for itself in as few as two visits? More than that, $100,000 of membership revenue goes directly to the Zoo's field conservation efforts!
Advance tickets are required for members. Why Advance Tickets?
Reserve your advance member timed tickets at www.cmzoo.org/visit
Advanced tickets are required for member entry. Tickets are subject to selling out. To allow everyone a spot in our on-site parking lot, we have limited Zoo capacity through the day. Because of this, during busier times of year (i.e. summer, holidays, weekends, etc.), you will need to plan a few days, or a week, in advance to visit the Zoo with your membership. We appreciate your flexibility and encourage you to choose a different date or time, should your preferred time or date be unavailable.
Before purchasing a membership, please note ticket times are not guaranteed for members. Consider purchasing non-member tickets for your preferred time and upgrading to a membership within 14 days. You can find the information on membership upgrades below. Memberships are non-refundable after purchase.
*Current members: We ask that you be courteous to fellow members by not over-reserving tickets that you cannot use. Please release your member tickets if plans change, so that other members can enjoy the Zoo. You can release your tickets by emailing

[email protected]

prior to your ticketed date. We release unused tickets as they are cancelled.
Upgrade to a Membership by Applying Your Admission
Apply general admission tickets* from your visit to the cost of a new Zoo membership! We'll honor your receipt for 14 days after the date of your Zoo visit. You must contact membership before purchasing your membership to apply tickets to your initial membership upgrade. Refunds cannot be given if you choose to purchase a membership before speaking to membership staff.
Upgrading is easy
Email a copy of your receipt and your phone number to:
[email protected]
(Or, call 719-424-7830 or 719-424-7893,
Monday-Friday, from 8 a.m. – 5 p.m.)
*Restrictions apply:
– Only one daytime ticket order can be applied per membership.
Contact the Membership office
to upgrade before purchasing admission tickets for a second visit.
–
Only daytime tickets covered under the membership level can be applied (i.e. up to two tickets can be applied to an Individual Plus).
–
The order number from your original ticket receipt is required for an upgrade.
–
Admission ticket upgrades cannot be applied to gift memberships, upgrades between membership levels or membership add-ons (i.e. Third Adults).
–
The tickets applied to your membership upgrade must be yours. We cannot apply another family's visit to a membership for you.
–
After-hours event tickets, like Electric Safari and Boo at the Zoo, cannot be applied to a membership.
*Things to Note Before You Buy:
Memberships cannot be refunded (partially or fully), downgraded, pro-rated or extended after purchase.
Member tickets are not valid if they are reserved for a date and time beyond the membership's expiration date. For example, if tickets are reserved for anytime in December (including Electric Safari) on 11/11/2022 and the membership expires 11/30/2022, the member tickets will not be valid in December unless the membership is renewed.
To clarify children who are, or are not, covered on a membership – please call our membership office 719-424-7830 or 719-424-7893. Children not living in a household, including daycare, youth groups or group homes are not covered under any membership level.
When gifting a membership, please note that existing members can belong to only one active membership at a time. A membership gifted to an existing member will extend their existing expiration date by one calendar year.
If you have recently renewed your membership with no changes, please continue to use your existing membership card as a part of our "Go Green" initiative. If you no longer have a membership card, we'll send a new one for a $5 fee. In the meantime, you can check in using a valid photo ID and your membership reservations at any admissions window.
Prices and benefits subject to change.
---
We appreciate our Corporate Members!
When you join the Zoo as a corporate member, we'll list your company on our Companies for Conservation webpage the entire year you are a member! These sponsorship donations help contribute to over $2 million spent caring for our huge giraffe herd; our grizzly bears, Emmett and Digger; a pride of lions; a Mexican wolf pack and so much more! Learn more about becoming a corporate member

Before purchasing a membership, please note ticket times are not guaranteed for members. Consider purchasing non-member tickets for your preferred time and upgrading to a membership within 14 days. You can find the information on membership upgrades above. Memberships are non-refundable after purchase.
Member benefits per tier level are listed below, see the additional benefits included with all membership levels.
Contact the Membership Office at [email protected] if you have questions (open Monday-Friday, from 8 a.m. – 5 p.m.).
Join or renew online below, or download a membership form
365 days of FUN!
Enjoy a year of FREE daytime admission to the Zoo. Stay for a full day or pop-in for an hour or two (advance tickets required).
There's always something new at the Zoo
From baby animals to wild new exhibits, your Zoo membership is a ticket to new adventures.
More value than ever
Your family membership can pay for itself in as few as two visits!
Exclusive members-only events and summer hours
Beat the crowds every Saturday, June through August, with members-only early (8 a.m.) admission. Come early and watch the Zoo wake-up (advance tickets required). Plus, enjoy invitations to members-only summer events.
FREE evening visits to Electric Safari
The Zoo's December holiday lights extravaganza (advance tickets required).
Special savings!
WILD learning EdVentures are available for kids of all ages. Members receive discounts on educational programs and camps… plus, a 10% discount at Thundergod Gift Shop by showing your Member card and photo ID. (Does not include stroller rentals, sale items, books, film or food.)
FREE monthly eNewsletter, The Waterhole
Stay updated about new animals and Zoo events with The Waterhole, our monthly eNewsletter.
It's memorable!
Cheyenne Mountain Zoo holds a 4.8-star rating (out of 5), with more than 27,000 reviews on Google and social sources. It holds a "Certificate of "Excellence" from 2013 – 2018, with 4.5 (out of 5 stars) and more than 4,015 reviews on Trip Advisor. And, it was voted one of the top zoos in the country six consecutive years in a row by USA TODAY 10Best Readers' Choice Awards (2017, 2018, 2019, 2020, 2021 & 2022). What memories will you make this year?
Help save endangered species with every visit
Because of members, $100,000 of membership revenue supports field conservation in the wild. Even better? Our members get to vote which conservation projects we support! By being a member, you help us change the world.
We need you!
Of the more than 235 zoos and aquariums accredited by the Association of Zoos and Aquariums (AZA), Cheyenne Mountain Zoo is one of the few operating without tax support. Cheyenne Mountain Zoo depends on admissions, membership dues, special event attendance and donations for funding. Your membership support is critical to our work! Together, we can provide the care our animals deserve while ensuring your Zoo remains a source of pride for your family and the community.
Embark on a Wild Adventure at the Zoo.