Conservation
Wildlife Conservation Matters.
Cheyenne Mountain Zoo is committed to the preservation of the Earth and its wildlife. Beyond living green ourselves, our ongoing wildlife conservation projects and our Quarters for Conservation (Q4C) initiative, we are committed to spreading the word about how each and every one of us can make a difference in the health and sustainability of wildlife and wild places.
Each visit to our Zoo directly supports wildlife conservation. With 75¢ in tokens from each admission, Zoo guests help fund our long term conservation projects at our Quarters for Conservation kiosks. Since this program started in 2008, this program has raised more than $4 million for field conservation.
Over Four Million Reasons to Celebrate!
Thanks to our guests and members, as of May 2022 we officially have raised more than $4 million to help save wildlife worldwide, through our Quarters for Conservation program, established in 2008. Every visit to the Zoo is conservation in action. Learn more about Quarters for Conservation below.
Click on the Q4C projects below for their details, latest news and updates.
Quarters for Conservation (Q4C)
Your Support can Change the World. One of the most impactful ways Cheyenne Mountain Zoo and its guests help wildlife conservation is through its Quarters for Conservation (Q4C) program. Since 2008, those quarters and coin donations have added up, now reaching a major milestone: more than $4 million raised! By collecting quarters and other coins, we fund new and existing wildlife conservation projects, provide an opportunity to engage our staff and our community in the effort, and significantly expand our contributions to wildlife conservation in Colorado and around the globe. Every contribution matters!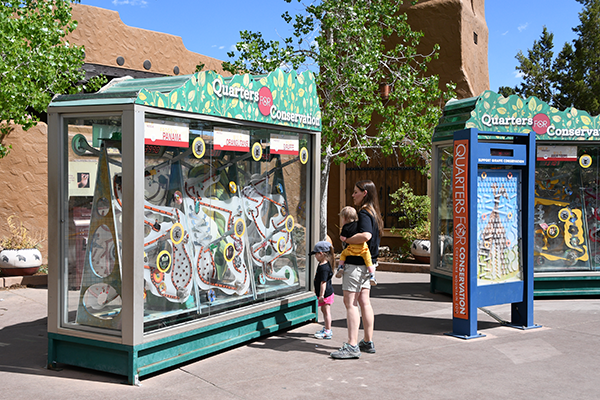 How Q4C Works:
From the fees you pay to the Zoo, we will allocate the following amounts to biodiversity conservation projects; 75¢ per each admission fee, $2.50 per individual plus membership, $5 per family or higher membership, and a portion of each education and animal program.
On every visit, you'll receive three "quarter" tokens. Learn about each project and contribute to the project(s) you'd like to fund by using these tokens, or your spare change, to show your support at the token kiosks, located inside at the Zoo's Entry Plaza. Take some time as you visit animal exhibits, hear keeper talks, see natural behavior shows or read signage around the Zoo, and discuss this information with your family and friends. Discover suggestions as to how you can make a difference in preserving our planet's limited resources and help the Q4C projects that you wish to support.
Additional contributions can be made with real quarters – 100% of any added contributions will go toward the selected project. (Total contributions are calculated annually, May through April.)
Through Q4C, you'll be directly supporting critical conservation projects every time you visit the Zoo!
Ongoing Conservation Support
There's never been a more important time for each of us to take a stand for wildlife and our environment.
Join us in safeguarding the future of planet Earth!