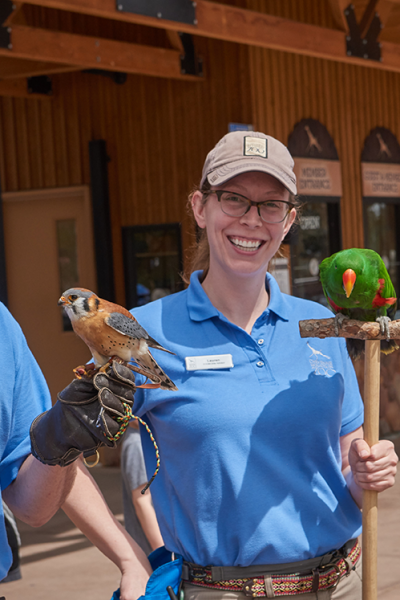 Application Process:
Departments may have their own application process. Read the instructions per job listing carefully and follow them.
If the application instructions refer to the standard Zoo Job Application (PDF), download it HERE.
Calling the Zoo is not the best way to reach us about jobs, as we have many departments.
Submit your resume to:

The e-mail address listed with job opening.
Fax number (719) 633-2254. On your cover sheet, indicate the department your information should be given to.
Note: Jobs listed on this web site may be filled at any time and are subject to availability. We try to keep this list current, but jobs may be available that are not listed.
Current Opportunities at the Zoo:
Marketing Administrative Assistant
Cheyenne Mountain Zoo is looking for a full-time Marketing Administrative Assistant. This position will support the Marketing Department by performing administrative and physical support tasks, which include, but are not limited to, internal and external correspondence, customer service, paperwork and invoices processing, maintenance of databases and management of mailings. Event assistance will include physical event set-up, errands and organization of event/marketing storage space. Some social media support will also be included. Also provides hands-on support for signage and other printed projects. View full job description.
To apply: Please submit your cover letter and resume (both are required for consideration) via Indeed.com. No phone calls, please.
---
Donor Engagement Coordinator
This position is responsible for supporting the Development Department in all areas as needed, but has a specific focus on donor engagement. This position requires a creative, organized and hard-working person that will help ensure donor engagement, satisfaction, and retention, as well as provide daily administrative support to the entire department. The Donor Engagement Coordinator will be part of all fundraising programs and events. This position oversees our donor birthday and VIP Delivery programs, as well as utilizes our data management system to aid in all areas of fundraising. View full job description.
To apply: Please send your cover letter and resume (both documents are required for consideration) to Kelley Parker, Director of Development, at [email protected]. Please type "Donor Engagement Coordinator Candidate" in the subject line. No phone calls, please.
---
Zoo Landscape Architect and Horticulture Manager
The Zoo Campus Planning team is seeking a person for this role with a minimum of a Bachelor's Degree in Landscape Architecture from an accredited school, and a professional landscape architecture license in the State of Colorado, or the ability to obtain a Colorado license through reciprocity. Minimum 5 years of professional experience as a licensed landscape architect. Experience directly managing/supervising staff a plus. Strong base of plant knowledge and of our local environment and microclimates. View full job description.
Pay Range: $72,000- $82,000
To Apply: Please apply via Indeed at this link. NO PHONE CALLS PLEASE.
---
Career and Life Coach
Zoo staff are some of the most passionate and motivated people, and Cheyenne Mountain Zoo is looking for a person as passionate about people as we are about conservation. The Career and Life Coach's main role is to focus on the people of the zoo as they navigate their personal and professional aspirations. Traditional HR professionals need not apply. View full job description.
Pay Range: $58,000- $68,000
To apply: Send cover letter and resume to [email protected]. No phone calls, please.
---
Food Service & Retail Positions
(Managed by The SSA Group / Taste Catering)
Seasonal positions may be available, please search https://thessagroup.com/careers/ for Cheyenne Mountain Zoo.

---
Adult Volunteers
Have time on your hands? Want to do something worthwhile in an exciting, beautiful setting? Come to the Zoo and volunteer. You'll be glad you did. Whether you want to help keep our animals comfortable, help children have a wonderful zoo experience, or work in an office, your efforts are needed. More about adult volunteering…
---
The Cheyenne Mountain Zoological Society is an Equal Opportunity Institution.