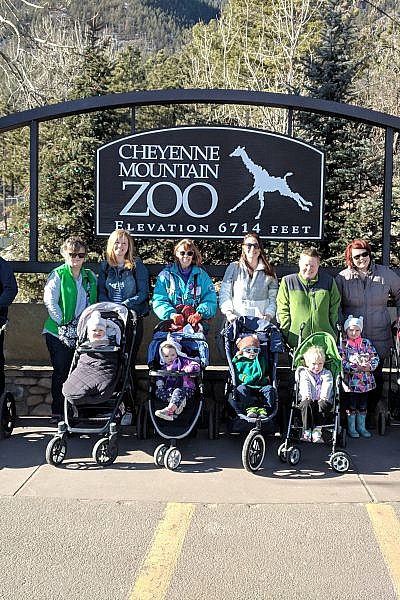 Stroller Safaris for Private Play Groups
If you're interested in booking a Stroller Safari for your private playgroup, fill out the request form linked in the green box, or contact the program coordinator below.
You will need to provide your group leader's name, membership status, phone number, email, and your 1st, 2nd and 3rd date requests.
Ages 12 months – 4 years
Stroller Safaris are informal exploratory experiences in which participants use all five of their senses to connect with nature and animals. Participants will enjoy a sensory activity, meet and greet with one of our animal ambassadors, and an animal feeding experience during every program.

Time
10:15 a.m. – 11:45 a.m., or as offered.
Cost
Members* – $6.75 per person (1+ years old)
Non-members – $20.75 per person (1 + years old)
*Member discount will automatically apply when booking online, after logging in with your Zoo membership username and password.
Program fee includes
– Zoo admission for the program registrants
– 3 tokens for the Quarters for Conservation kiosks
– 1 sensory activity
– 1 animal meet & greet
– 1 animal feeding experience
Fees & Policies
Zoo membership discounted rate will automatically be applied to your reservation when you register online, as long as you have logged in with your membership username and password.
Infants (0-12 months) may accompany the registered adult participant for free.
Please call the EdVenture Department at 719-424-7827 if you are having difficulty with your registration.
This is a premium Zoo program and therefore members are required to pay a discounted member fee to register.
Refund Policy:

If the Zoo closes and/or cancels your program due to unforeseen circumstances (e.g. inclement weather), an EdVenture Program coordinator will contact you, or the group leader if there is a group, and issue a full refund to all program participants. (The group leader will be responsible for notifying the group participants of these changes.)
A full refund can be issued if a written or verbal request is made at least 48-hours before the program date. No refunds will be issued if a participant does not attend and has not submitted a refund request within the 48-hour window.

Parking: During March – September the Zoo is in peak season with high volumes of Zoo guests. We suggest all Stroller Safari registrants arrive at the Zoo at 9 a.m. to secure a parking space. Zoo admission is included with your Stroller Safari registration. Guests may enter the Zoo, then plan to meet at the elevation sign outside the front gate of the Zoo at 10:05 a.m. for the program.
Disclaimer: Participants will not be reimbursed if any portion of the prescheduled program is missed due to parking conflicts.

Space is limited; therefore pre-registration is required.
Questions or to Contact Us
Email [email protected]
or call 719-424-7827