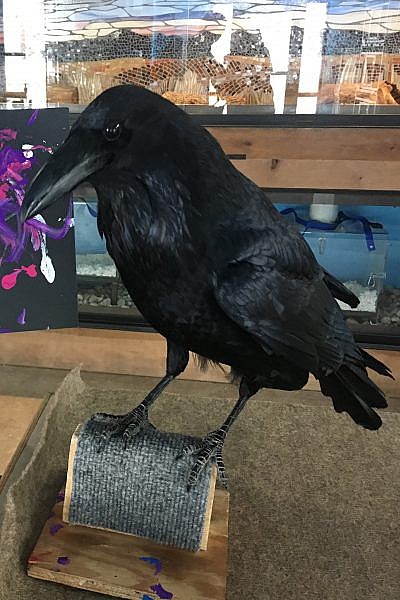 Bird Premium Art Experience
Join a Loft keeper for a memorable and fun premium painting session with one of our Loft birds! Choose one of these animal ambassadors for a one of a kind experience:
Common raven – Poe loves to paint! This is a great chance to see our raven in action demonstrating her skills with beak and brush. You might even get to assist our avian artist by holding the canvas for her.
Eclectus parrot – Mister is an avian artist. Parrots are excellent at grasping objects with their zygodactyl feet. Mister uses this to his advantage, when holding his paint brush and likes to make swoops and squiggles on the canvas.
Activities may include:
– One-of-a-kind memories and the animal's piece of art to take home.
– You choose the animal artist from the list above.
– You select the paint color(s) for the animal to use.
– Assist the Loft keeper in set-up, painting, and clean-up with a special Loft animal.
– Keepers provide the canvas and animal safe non-toxic paint.
Days & Times:
Daily opportunities, during normal business hours (must be scheduled at least two weeks in advance).
Experiences are 30 minutes long, with the species of your choice (the Loft keeper will inform you which animals are available upon your arrival).
Cost:
Members $150.50 – includes one take home canvas board of your custom animal art
Non-members $200.50 – includes one take home canvas board of your custom animal art
Additional people: $45.75 (Max group size of 4 people)
(Experience includes two people, for kids 12 and under they need a paying adult participant to accompany them.)