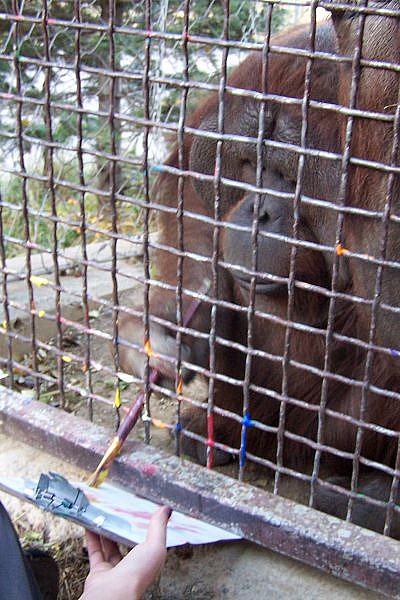 Orangutan Encounter
Meet this Animal Up-close.
Enjoy experiences of a lifetime, fantastic photo-ops and feeding or enrichment opportunities with your favorite! Meet an orangutan and learn all about their care and daily activities.
Enjoy this amazing experience, which may include:
Joining the keepers during an orangutan painting session behind-the-scenes.
Picking the colors they'll be painting with on your 3″ X 5″ piece of artwork.
Yes, that's right – you'll receive the painting as a souvenir!
Note: This is a watching-only opportunity.
Note: Weather Permitting. Maximum four(4) person limit per reservation for Orangutan Encounters.
Encounter Details:
– Contact us at least one week in advance to schedule this Encounter.
– The number of people permitted is dependent upon the animal chosen, and subject to the discretion of Zoo staff at the time of booking.
– Some experiences may be limited to fewer participants.
– All Encounters (unless otherwise noted) do not have any age restrictions, however children under 12 years of age must be accompanied by an adult.
– Children 2 years old and under are FREE, may attend unless otherwise noted (often with restrictions), and they do no count toward the total group size (group size is subject to specific animal requirements).
– What you do or experience during the encounter can vary depending upon the animal chosen.
– Typical encounters include helping to feed the animal (with appropriate feeding utensils), or giving enrichment items and watching them interact.
– You will get to meet the keeper(s) and take photos of the animal(s) behind-the-scenes.
*Note: All encounters will be conducted in a protected contact situation. In most cases touching the animal will not be available.
Days & Times:
– Scheduled daily, between 9:30 a.m. and 3:15 p.m.
– Encounters are 30 minutes long, with the animal of your choice.
Cost:
$475 per encounter for up to four(4) people (unless otherwise noted per individual animal).
Additional 1-2 people, if permitted, can be added for $95.75 per person (Max group size of 6 people).
– Includes admission to the Zoo for the day.
– Payment in full will be required upon booking.
– $3 from the cost of your Animal Encounter is applied directly to Quarters for Conservation.
– 75¢ from the cost for each additional person, if permitted, is applied directly to Quarters for Conservation.
– Each Encounter group is given twelve Q4C tokens upon arrival for voting at the Quarters for Conservation token kiosks, to show their support for the conservation projects that inspire them.
Cancellations:
– Encounters need to be scheduled at least (1) one week ahead of your date/time.
– Cancellations will be refunded with a minimum 24 hours notice. Rescheduling may be available.
Questions: