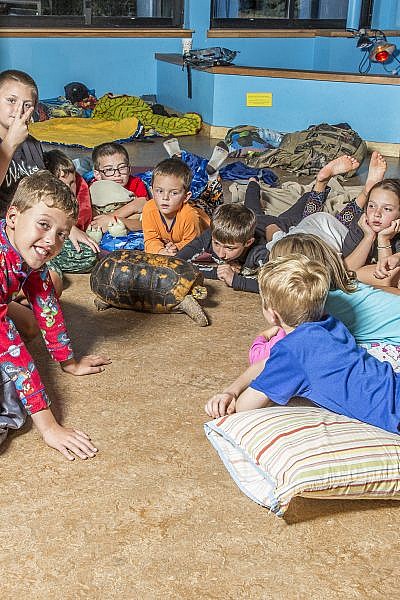 Sleepovers for You and Your Friends
WildNights
Customize night-time adventures at the Zoo and invite your group of 10 to 125 people to a one-of-a-kind experience.
WildNight sleepovers are sure to spark your curiosity and:
Answer all your animal questions
Enjoy a special guided evening tour
You can customize it for a wildly unique Birthday Party!
Come see what the animals do while the rest of us sleep!
All WildNight sleepover programs include:
– Pizza for dinner served with veggies
– S'more roasting
– A guided evening tour
– Giraffe feeding
– Up-close animal encounter in The Loft
– Zoo Admission for the following day
– Grab and go breakfast
– A guided morning tour
– T-shirts and scout patches are available for purchase during registration check-out
Extras
For an additional cost, the following may be provided (Not applicable to Kids-Only WildNight/Sleepovers):
– Sleeping cot (raised above ground) – $5
– Sleeping mat (lays on ground) – $3
– Extra pizza (sausage, cheese, veggie or pepperoni) – $12 per pizza
– Fruit and/or vegetable tray for any meal – $4 per person
– Catered breakfast (assorted fruit tray, yogurt, granola, coffee, pastries, orange juice) – $9 per person
– Extra animal ambassador (Loft animal collection only) – $35
– Golf cart rental (Driven by Zoo staff only, seats 5) – $20
Please note: If making a merchandise purchase the night of your program please note that credit cards are NOT accepted the day of, cash or check ONLY.
Times
Custom, Scouts, and School WildNights – start at 7 p.m., and end the following morning at 9 a.m., unless otherwise noted.
For Kids Only WildNights – start at 6 p.m., and end the following morning at 8 a.m., unless otherwise noted.
Cost
Costs are listed in the green area at the top of the page.
Options to add special WildNight t-shirts ($20) and patches ($8) or a combo ($25) are available during check-out, or contact us for details.
To Schedule
To schedule any custom WildNight sleepover, complete and submit the WildNight Request Form.
For pre-scheduled WildNights, use the 'Register Now' link provided with its description.
Cancellation Policy Effective from May 1, 2020 through August 31, 2020 – A written request for cancellation received prior to the scheduled program date will receive a refund in full or have the opportunity to reschedule the program for another date.
Questions or to Contact Us
Email [email protected]
or call 719-424-7827