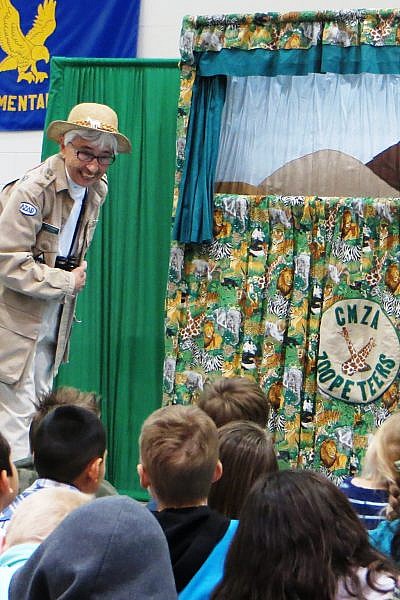 Free Puppet Show for School Grades K-2
Want total K-2 entertainment while learning key animal science concepts, grounded in the Colorado Academic Standards? Try our Zoopeteer programs that introduce the exciting world of animals, their characteristics and habitats, through an entertaining and very educational puppet presentation by the CMZoo Auxiliary performing troupe.
Target Audience: Kindergarten, First & Second Grades
Colorado Life Science Standards
– Kindergarten Standard 2: Organisms can be described and sorted by their physical characteristics.
– First Grade Standard 2: An organism is a living things that has physical characteristics to help it survive.
– Second Grade Standard 2: Organisms depend on their habitat's nonliving parts to satisfy their needs.
Colorado Geography Standards
– First Grade Standard 2: Geographic tools such as maps and globes represent places.
– Second Grade Standard 2: Geographic terms and tools are used to describe space and place.
Zoopeteer Program Choices:
Kindergarten programs:
"Hippo-NOT-umus" – Children will laugh and learn watching this puppet show based on a story that tells how important adaptations such as the elephant's trunk are to an animal's life. Portly the hippo tries to be other animals but finds that his own life is best for him.
"Bear Cub is Lost" – Some animals invite a lost bear cub to share their homes and food.
First Grade programs:
"What's My Habitat?" – This Zoopeteer Presentation discusses habitats and opens with three animals in the wrong habitats. After they find their correct habitats, they play a guessing game with clues about other animals and where they live.
"Home for Polar Bear" – An unhappy polar bear magically visits various habitats and finally discovers that an Arctic home is best for him.
"The Arctic" – Ms. Docent and Cheyenne, the giraffe, take a wrong turn while searching for other giraffes and end up at the North Pole where they discover some very different animals.
"The Waterhole" – Ms. Docent and Cheyenne meet several animals at a waterhole in Africa (Kenya) and learn about these creatures and their surroundings.
Second Grade programs:
"The Brave Little Tree Frog" – An adventurous tree frog, with help from his friends, journeys across South America to save the rain forests.
"Colorado Wild" – Ms. Docent and Cheyenne visit the different life zones of Colorado learning about the animals and plants in each zone.
Dates & Times
– Dates offered: October through March only
– Days offered: Monday, Tuesday, Thursday & Friday (no Wednesdays)
– Zoopeteer Program: 35-45 minutes per presentation
Details & Requirements
– Call and schedule as early as possible for availability, as days and times are limited and fill up quickly.
– All shows are presented from a portable stage requiring 12 square feet of space plus sitting room, in one location for all presentations.
– Teachers should coordinate show times and select a presentation at their grade levels.
– Zoopeteers prefer to present more than one show in a given day and generally do not return to the same school during the performance season.
Cost
FREE* (student or adult)
*Although there is no charge for these Zoopeteer Presentations (a public service of the Cheyenne Mountain Zoo Auxiliary), a donation to the program would be gratefully received to cover costs of the stage, props and puppets for our Zoopeteers.