Colorado Springs, CO – Cheyenne Mountain Zoo is sad to announce the passing of Rosie, our 28-year-old Andean bear. During her seven years here at Cheyenne Mountain Zoo, she made strong emotional connections with guests and staff alike. There are currently only four other Andean bears in North America that have survived to that age. Andean bears are also known as spectacled bears.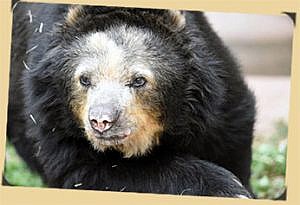 "It's no secret that the Zoo's bear grottos are not the fanciest or most modern exhibits," said Michelle Salido, one of Rosie's animal keepers. "They're functional and comfortable for our bears, but they're not the type of exhibit that draws people in. But that was what made Rosie so special – she had the ability to capture our hearts, despite her modest surroundings."
Staff started to notice behavior changes in Rosie on Thanksgiving Day, and she was anesthetized on Saturday to give her some medications and evaluate her condition. Zoo veterinarians found signs of declining health, including test results that strongly suggested cancer. After her exam, keepers offered her every possible tempting treat they could find, including food from staff lunches and the Grizzly Grill, but she still would not eat. The humane, but difficult, decision was made to euthanize her on Monday morning.
The first things most people would notice about Rosie were her sweet face and her small stature. If you had time to watch her interact with her former exhibit-mate, Osito, the second thing you would notice about Rosie was that she could hold her own with the much-larger male, who was approximately double her weight.
"Rosie was very small for an adult Andean bear," said Joanna Husby, animal care manager. "But, even though Osito was about twice her size, she had vocalizations that would put him in his place. She was definitely the boss! When she would 'yell' at him, she sounded like a baby dinosaur."
Osito passed away in June 2016.
Andean bears like Rosie and Osito are considered vulnerable in the wild by the IUCN Red List, which is just one small step away from endangered. Raising awareness about the human conflicts that threaten their survival in the wild is the main goal for animal ambassadors like Rosie.
Cheyenne Mountain Zoo first started supporting wild Andean bears when they were chosen as a Quarters for Conservation-benefited species in 2008 and 2009. We originally partnered with the Andean Bear Foundation (ABF) in 2009, with a donation of a radio collar and staff support for in-country Andean bear research. More recently, we have partnered with the organization to research the endangered mountain tapir. The two species are intertwined, sharing the same mountain habitat in South America, as well as facing the same threats to their species' survival.
In Spring 2016, Cheyenne Mountain Zoo members voted to contribute $22,000 to tapir conservation efforts being led by ABF. We also sent two staff members to the Andes Mountains in Ecuador to assist with the efforts in Fall 2016.
In 2017, our members again voted to give $25,000 of their conservation contributions to the foundation. CMZoo will once again send staff members to assist with research in the field for two weeks in February 2018.
It's these kinds of connections that our animals make with our members and guests that allow us to make a real difference for species in the wild. Rosie, through her long life as an animal ambassador, was able to make connections with likely millions of people, which translates into real hope for her species.
About Cheyenne Mountain Zoo
Cheyenne Mountain Zoological Society was founded in 1926. Today, Cheyenne Mountain Zoo, America's ONLY mountain zoo, offers comprehensive education programs, exciting conservation efforts and truly fantastic animal experiences. It is Cheyenne Mountain Zoo's hope that guests fall in love with animals and nature, and take action to protect them. Of the 230 zoos and aquariums accredited by the Association of Zoos and Aquariums (AZA), Cheyenne Mountain Zoo is one of just nine operating without tax support. Cheyenne Mountain Zoo depends on admissions, membership dues and donations for funding.