Cheyenne Mountain Zoo will soon bid a heartfelt farewell to Thimbu [TIM-boo], a nine-year-old Amur tiger with a freckled nose and an 'aww-inspiring' way of adorably rolling on his back in the tall grasses of Asian Highlands.
As part of a breeding recommendation from the Amur tiger Species Survival Plan (SSP), Thimbu is moving to Bramble Park Zoo – an Association of Zoos and Aquariums-accredited zoo, in Watertown, South Dakota – in late October 2019.
"He's just the loveliest tiger and a wonderful example of why we need to continue to protect and preserve his species," said Rebecca Zwicker, Asian Highlands animal care manager. "With this difficult-but-important move, we will be doing our part to do just that."
Thimbu – affectionately known as "Thim," by his keepers – needs to relocate as part of the SSP's plan to introduce a female Amur tiger, Savelii, to CMZoo Amur tiger, Chewy, later this year. To learn more about CMZoo's upcoming Amur leopard and Amur tiger SSP breeding efforts, read this September 2019 article.
In anticipation of his move, Thim's keepers shared some insights about his personality, a few of their favorite memories with him and their hopes for his future.
"He's notoriously sleepy in the morning," said Basia Dann, Asian Highlands animal keeper. "One of my favorite Thim times is when we go to greet him in the morning. He's usually rolling around on his back and doing his morning stretch routine."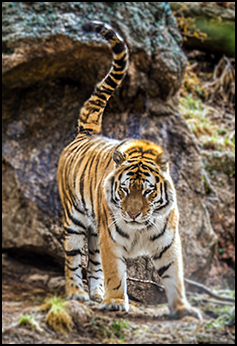 Another morning favorite of Thim's? The smell of coffee.
"One of my favorite memories with Thim was when we first learned that a sure way for him to chuff [a quick outward breath through the teeth, which is an indication of contentment and sometimes known as a tiger 'hello'] was to give him a whiff of our coffee," said Dann. "He's a cat after my own heart! Sleepy mornings with him are the best."
Like many scent-driven big cats, Thimbu's attention isn't only aroused by the smell of coffee. Keepers found one of Thim's favorite training motivators and enriching items was a popular perfume.
"His very favorite thing is Amber Romance perfume from Victoria's Secret," said Dann. "One time I was training him, and he noticed a spot where we had sprayed the perfume and he left the training session to go over and rub and roll in the perfume. He even licked it off the wall."
Because tigers and big cats like to scent mark, the perfume is almost irresistible to Thimbu, and trainers spray it to reward him and encourage him to investigate new enrichment items that engage him mentally and physically. Thim doesn't need much encouragement to be physically active, though, once he's had his morning stretch.
Thimbu's keepers and fans throughout Colorado will miss seeing him at Cheyenne Mountain Zoo. But, they know his relocation is an important move for the survival of Amur tigers, which are endangered, with the latest wild count around only 500.
As Thimbu makes the trip to Bramble Park Zoo, he will be accompanied by one of his keepers, who will work with his new team of keepers to help him make a smooth transition to his new home. Keepers at Cheyenne Mountain Zoo and Bramble Park Zoo have been in regular contact to share information about Thimbu that will help this resilient tiger settle in comfortably.
"This move means that even more people will get to see him in all his majesty, and fall in love with tigers because of him," said Dann. "He's truly the whole package. I hope Bramble Park Zoo supporters go to the zoo especially to see him and watch him take on this new experience with bravery and resilience, as he always has with us."
Cheyenne Mountain Zoo guests can visit Thimbu, and wish him well on his next adventure, through mid-to-late October.