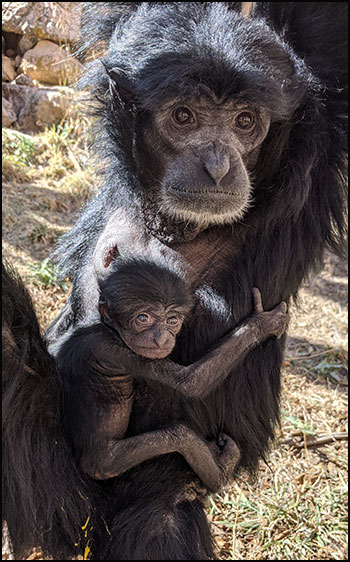 The female Siamang born on Labor Day in Primate World to parents, Eve and Wayan, is growing well and will soon get a name! Our partner, Children's Hospital Colorado, partnered with us to invite the public to vote on four names chosen by the baby's keepers.
The public can vote on her name through Sunday, Nov. 1, at cmzoo.org/baby.
The names on the list, chosen by the keepers are:
Binti, which is Indonesian for "daughter"
Rahsia (RAH'-see-uh), which is Malay for "secret," since she was a surprise baby
Rosie, after Rosie the Riveter, since the baby was born on Labor Day
Naomi, the real name of the woman who became known as Rosie the Riveter
Although the baby was a surprise, she and her family are bonding and growing together as expected. As firs-time parents, Eve and Wayan follow their instincts to support their baby's needs. Children's Hospital Colorado compiled a list of 10 common questions first-time human parents might have.
"Not a whole lot has changed since she was born, other than she gets more and more adorable," said Eleanor Knox, Primate World keeper and Eve's primary trainer. "She's still staying on mom a lot, but we're starting to see her reach out to touch things. She seems pretty curious so far. She'll touch my finger just a little bit when Eve comes over to see me. That's super cute."
Nine-year old Eve and 12-year-old Wayan are first-time parents, but have picked up parenting without skipping a beat. For about the first week, Eve would hold the baby in one arm and swing around with the other. Since then, the baby has shown Eve that she's strong and can hang on tight – even when Eve climbs high up into the corners of her outdoor space – so Eve can use both arms to swing with confidence.
"Eve is really confident with the baby now," said Knox. "That's great to see because it means the baby appears to be strong and that Eve is comfortable with her. Eve has been really good with us keepers, too. She's been coming over to us with the baby and letting us get close looks at the little one to see if she's okay. We have a close relationship with Eve, so she's been really good about letting us touch the baby, too, just very lightly while she hangs on to mom. That's going to be important in developing our relationship with the baby, which will allow us to start working on voluntary behaviors that help her participate in her own care when the time comes."
The baby will continue to nurse for up to two years, but could start tasting solid foods around three months. Her interest in solid foods helps solidify her relationship with keepers, as they can reinforce her behaviors and show her that it's a positive thing to interact with them.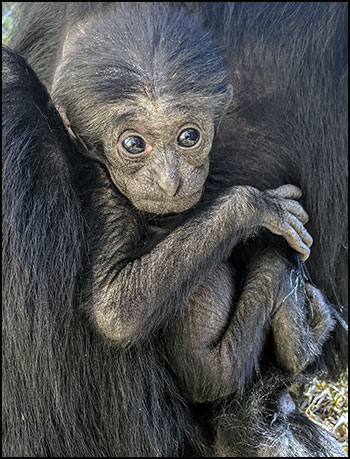 "We're already starting working on training, but it's a slow process," said Knox. "We've started touching her a little if Eve brings her close enough to the mesh and is comfortable, so baby can get used to interacting with us. The next step will be getting her really comfortable taking food from keepers, so we can reward her. In terms of a specific trained behavior, we could start with practicing for an injection. The little guys need injections pretty early, so we start working on that relationship and behavior as soon as possible."
Many of the primates in Primate World are trained for voluntary injections, including 2-year-old Kera, a Sumatran orangutan born at Cheyenne Mountain Zoo. Their experience training for this behavior with other primates will benefit this little one, too.
"We ask them to present their hips and start with a touch with our fingers," said Knox. "Once they're comfortable with that, we'll touch them with something else, like a pencil, so they are comfortable with receiving the touch from an object instead of our hands. We usually introduce a syringe without a needle, next then a syringe with a dull needle, and finally a normal needle and syringe. It takes time and we want to make sure she's really comfortable with every step before her first injection."
Siamangs receive tetanus and rabies vaccines, typically. The training is helpful in case her care team needs to intervene with injectable medications to address any unforeseen medical concerns.
Wayan, the baby's dad and the last Siamang born at CMZoo before his baby girl, is also bonding with the baby and maintaining his great relationship with Eve.
"She could start moving off of mom as early as five or six months old," said Knox. "After that happens, the dads will usually play a bigger role in carrying the baby and playing, with mom's permission. That timeline can really vary, though, especially with a first-time mom. For now, Wayan is grooming the baby while Eve holds her. Grooming and rest time is pretty adorable. Eve will lie down with her head in Wayan's lap and the baby on her chest and he grooms the both of them while mom has a moment to relax. He's been great. He sticks pretty close to them, but is respectful of Eve when she shows him she'd like a little space, too."
Having adjusted to family life so well, the Siamangs' new neighbors, white-cheeked gibbons Debbie and Tanh-Linh who moved to Primate World from Monkey Pavilion, have been their latest focus.
"Eve is really curious about them," said Knox. "They can see each other from their yards and through the windows between them in their indoor exhibits. Wayan is cautious, which is just his personality. The gibbons are settling in well, and are really used to having neighbors from their previous home in Monkey Pavilion."
Several CMZoo fans have given the family new things to be curious about, too. As part of the naming vote, people can send the family gifts from a registry listed at cmzoo.org/baby. Keepers and the animals have been excited for the support.
"We're super excited and thankful that we've been receiving items from the baby registry," said Knox. "We have received food, blankets and swings, which Eve really seems to enjoy. We see her hanging out on the swing with the baby pretty often. We were lucky to get three of the saucer swings, so we have placed one inside and one outside for the Siamangs and shared one with the white-cheeked gibbons."
Baby, Eve and Wayan are often visible to guests, but as they continue to bond, they might choose to spend quiet time in their back den. Visitors can say hello to the new family in Primate World. CMZoo will announce the baby's name on social media channels after voting has closed on Nov. 1.