Every visit to the Zoo is conservation in action. Cheyenne Mountain Zoo and its guests and members are celebrating a huge milestone, having raised $3 million since the Zoo's Quarters for Conservation program launched in 2008.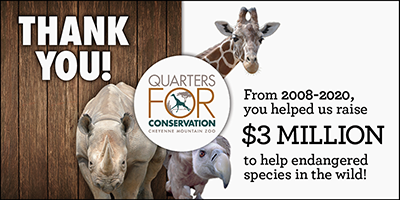 Quarters for Conservation, or Q4C, is the Zoo's largest fundraiser for field conservation. It actively engages visitors and staff in supporting long-term projects championed by the Zoo. Known as legacy projects, these currently include biodiversity conservation on behalf of giraffe, Panama frogs, orangutans, black-footed ferrets, African elephants and rhinos, Wyoming toads and African vultures. Every visitor to the Zoo receives three "quarter" tokens representing the 75¢ Q4C allocation from their admission fee. They can then select the legacy projects they would like to support by placing their tokens in the corresponding slots in the Q4C kiosks. The kiosks record the number of tokens, so it's easy to see how popular each project is.
"Our guests have helped us save animals from extinction simply by visiting the Zoo," said Dr. Liza Dadone, vice president of mission and programs. "Three million dollars in conservation support is huge – and we want to thank our guests and members. Through this program, they are directly empowered to make a difference, and they did. It's an example that no matter how small, when we all work together, we can change the world for the better."
One of the projects that CMZoo recently supported and participated in on the front lines, is Operation Twiga. In November 2019, with financial support from Q4C, CMZoo staff traveled to Uganda for Operation Twiga IV. They helped transport 15 critically endangered Nubian giraffe to a safer home within Uganda, where their species has another chance at survival. As part of this project, CMZoo vet staff helped to collect important medical data for an ongoing study to help giraffe in their natural habitat and those in human care.
"We haven't been involved in giraffe conservation that long, so this Q4c funding since 2008 has allowed us to really step up and take a leading role among Zoos in the past few years," said Dr. Dadone. "It's raised visibility in our Zoo community that giraffe populations aren't safe. People see a large herd of giraffe here at the Zoo, and I think it's easy to assume that they're still doing okay across their native lands in Africa, but that's no longer a reality. Giraffe are locally extinct in seven countries in Africa. Our Zoo, including our supportive community, is committed to ensuring that incredible animals like giraffe are around for the next generation."
Q4C beneficiary species truly run the gamut, from 18-foot-tall giraffe in Africa, to tiny toads from Wyoming.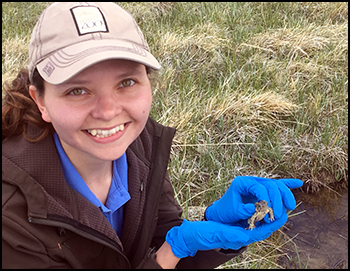 "Another program I'm especially proud of is our Wyoming toad breed and release program," said Dr. Dadone. "This species was once thought to be extinct in the wild. The only reason they exist in the wild today is because of our work and our team's collaborations with other institutions. Some might think Wyoming toads aren't as cute as a baby giraffe, but the toadlets are really adorable and are critical to our ecosystem and to ensuring we have a viable wildlife population in our own backyard. The research that we've done on headstarting [raising the toads to adulthood in the Zoo and then releasing them] and their nutrition has really improved the overall health of the last few generations of the Wyoming toad, which gives them an advantage when they are released into the wild. We're continuing to evaluate our best practices and have an even better chance at saving this species long-term."
Wyoming toads are symbolic of so many amphibian species in decline all over the world, including Panamanian frogs, which also receive support thanks to Q4C funds and frontline CMZoo staff support. In February 2019, three CMZoo staff members went to Panama to assist the Panama Amphibian Rescue and Conservation Project by remodifying two feeder insect pods into frog pods. For this 10-day trip, the goal was to set up two shipping containers to house and breed approximately 450 additional frogs brought in from El Valle Amphibian Conservation Center, and later released. This involved disinfecting the shipping containers, painting, installing plumbing and water filtration, assembling racks, and drilling and prepping tanks.


Q4C supports an in-house breed and release program for black-footed ferrets, as well. Since 1991, when CMZoo began breeding black-footed ferrets, 567 kits have been born. Roughly half of those kits are released into the wild while the others continue breeding at CMZoo and other facilities who support this recovery effort and the Species Survival Plan. This ongoing recovery effort supports the population of black-footed ferrets, who were once thought to be extinct, and which are vital to the prairie ecosystem in Wyoming.
CMZoo's work to save habitats for orangutans through advocacy for sustainable palm oil production is largely supported by Q4C. Thanks to that financial support, CMZoo's sustainable palm oil team consults staff at other conservation organizations on starting their own palm oil programs and recently attended the Roundtable on Sustainable Palm Oil's (RSPO) annual conference in Thailand to represent CMZoo in the RSPO's proceedings. Those proceedings directly impact the ways companies that use palm oil can help preserving wild lands for orangutans and other species.
Through Q4C, CMZoo also supports a conservation partner called Tsavo Trust – an organization in Kenya that works to protect the last of the big tuskers, which are African elephants with tusks weighing more than 100 pounds. CMZoo's funds helped Tsavo Trust build permanent housing that allowed staff to live on the land where these critically endangered giants live. It also paid for pilot hours – frontline aerial surveillance that protects rhinos and elephants from poachers seeking their ivory.
The seventh Q4C legacy partner is VulPro – protectors of African vultures. The dedicated staff at VulPro, in South Africa, save vultures who have been injured as wild birds, and rehabilitates them to release. Those that are too injured to survive in the wild find a permanent home at VulPro.
Before launching Q4C in 2008, CMZoo was supporting conservation, but at a fraction of what is possible now. In the past few years, CMZoo has collected about half a million dollars per year through Q4C. Even with our three-month COVID-19 closure this year, the Zoo was able to hit this substantial $3 million milestone as expected.
"Small change pooled together makes a big difference," said Dr. Dadone. "Thanks to our guests and members, we have been able to support this amazing frontline work. When we work together, we can make a positive difference for our world."
In addition to contributions from admissions to every Zoo visit and special event ticket, $2.50 from each individual plus membership, and $5 from each family or higher-level membership, is allocated to Q4C. EdVenture and Animal department programs also contribute to the cause.
For more information about these projects and Quarters for Conservation, visit cmzoo.org/conservation.