Saturday, May 23, 2020 (COLORADO SPRINGS, Colo.) – With Water's Edge: Africa Construction Issues Resolved, Nile Hippos Return to CMZoo! The sounds of hippo 'laughs' are once again echoing from the side of Cheyenne Mountain. Zambezi (zam-BEE-zee) and Kasai (kuh-SIGH), CMZoo's Nile hippo sisters, are back home at Cheyenne Mountain Zoo!


The two female hippos have been 'vacationing' at Dickerson Park Zoo, an Association of Zoos and Aquariums-accredited zoo in Springfield, Missouri, since October 2016, when construction began on Water's Edge: Africa. Zambezi, 27, originally came to Cheyenne Mountain Zoo in 1993. Kasai, 20, originally came to CMZoo in 2001. Given their long-time residence and personable demeanors, the girls are well-loved by staff, the community and CMZoo fans all around the world.
"The question of the year has definitely been, 'When are the hippos coming back?' We're just so happy the girls are finally home," said Patty Wallace, senior lead keeper at Water's Edge: Africa, the new home for hippos, penguins, warthogs, lemurs and more, at CMZoo. "There were a lot of happy human tears and a lot of wiggling hippo ears on Friday morning, as we watched them explore their new home. It's so fulfilling to see them enjoying this beautiful space and settling back in. We missed them!"
The hippos' 750-mile journey home wasn't your average road trip. Preparing to transport the girls, who each weigh over 3,000 pounds, required months of preparation, skilled staff and transport professionals, and specialized machinery and equipment. Three CMZoo staff members drove to Dickerson Park Zoo to help the hippos transition and bring them home. The team consisted of Wallace; Jeremy Dillon, Water's Edge: Africa Animal Care Manager; and Dr. Liza Dadone, a veterinarian and the Zoo's Vice President of Mission and Programs.
"This isn't their first road trip, but it's been three and a half years since their last transport, so we don't make any assumptions about how smoothly things will go," said Dillon. "Transporting nearly four tons of hippopotamus is risky, no matter how many times you've done it. Since they arrived at Dickerson Park Zoo, back in 2016, they've been preparing for this trip home – and so have we."
Making sure Zambezi and Kasai are comfortable and confident during their transport is vital to keeping them from getting too stressed or injuring themselves. The hippos are trained to be comfortable in their crates during a transport, which means they are awake for the entire transfer.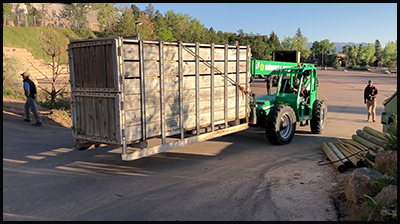 The steel-framed wooden crates were positioned as 'hallways' at Dickerson Park Zoo, so the hippos would pass through them daily when they went out into their yard. That meant they became familiar with the space and gained confidence being inside the crates. Through positive reinforcement, the girls became comfortable standing in the crate with only one end open, and eventually standing in their crates with both doors closed.
Thursday afternoon, the girls entered their separate crates, which were crane lifted out of their exhibit space and then lifted by forklift into a climate-controlled 72-foot semi-truck. After 12 hours of highway driving, with stops to check on the girls every two hours, the team arrived at Cheyenne Mountain Zoo around 5 a.m. Friday, May 22. From the Zoo's public parking lot, the hippos were lifted one at a time, in their crates, by forklift and carried up to their new home.
"The transport really couldn't have gone any better," said Dillon. "Watching them come out of their crates, healthy and curious to explore their new home was awesome. I just wish we could share this experience with the public right away."
Under current restrictions, the Zoo is temporarily closed to the public until further notice. But, when the Zoo is allowed to reopen, guests will be able to see the girls from one-of-a-kind perspectives, like the Water's Edge: Africa giant rope bridge that hangs 8 feet above the outdoor hippo yard.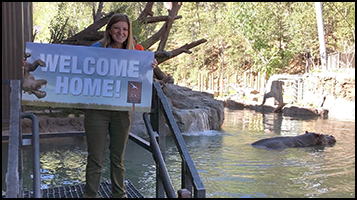 "I can't wait for people to come and see Water's Edge," said Grace Vining, animal keeper. "It's like an educational nature playground for animal lovers."
Nature play was central to the design of Water's Edge: Africa, so it features a nature trail with obstacles, like vertical logs to climb on and small boulders to hop, that leads to a huge rope bridge and ends at a platform overlooking the outdoor hippo pools and lemur island.
Cheyenne Mountain Zoo is known for providing interactive experiences with animals, and guests can expect that same level of engagement with animals at Water's Edge: Africa. As many barriers between guests and animals have been removed as possible. A knife-edge hippo pool brings guests eye-to-eye with the hippos, as they bounce on a sand bar in their outdoor pool. Hippo lovers might even feel a splash or two, as the hippos make waves that flow over the exhibit's many waterfalls. Guests are likely to leave the exhibit with wet feet, too, thanks to an 'ocean surge' from the outdoor penguin pool that splashes onto guest viewing areas. That surge isn't the only thing guests will want to look down for – the outdoor penguin area is designed so penguins have the opportunity to walk right up to guests if they want to.
Eleven African penguins arrived at Water's Edge: Africa at the end of April. Nine more will be joining the flock as soon as possible. In addition to African penguins and Nile hippos, ring-tailed lemurs and common warthogs will make homes at the brand-new exhibit, as well as a few other species.
Only 30 organizations accredited by the Association of Zoos and Aquariums in North America house hippos. The International Union for Conservation of Nature (IUCN) Red List categorizes Nile hippopotamuses as a species vulnerable to extinction in the wild, estimating 125,000 to 150,000 remain in their native habitats. The primary threats are habitat loss and illegal and unregulated hunting. Hippos are hunted for ivory, which is found in hippopotamuses' canine teeth, and for food.
About Cheyenne Mountain Zoo
Cheyenne Mountain Zoological Society was founded in 1926. Today, Cheyenne Mountain Zoo, America's mountain Zoo, offers comprehensive education programs, exciting conservation efforts and truly fantastic animal experiences. In 2019, Cheyenne Mountain Zoo was voted #6 Best Zoo in North America and CMZoo's Rocky Mountain Wild was named #5 Best Zoo Exhibit in North America by USA TODAY 10Best Readers' Choice Awards. It is Cheyenne Mountain Zoo's goal to help guests fall in love with animals and nature, and take action to protect them. Of the 233 zoos and aquariums accredited by the Association of Zoos and Aquariums (AZA), Cheyenne Mountain Zoo is one of just a few operating without tax support. Cheyenne Mountain Zoo depends on admissions, membership dues, special event attendance and donations for funding.