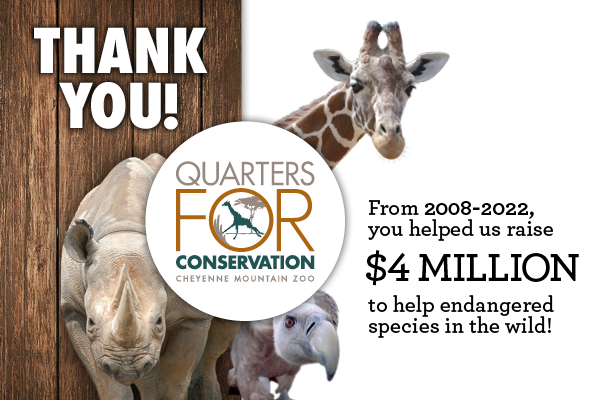 Cheyenne Mountain Zoo and its guests and members are celebrating a huge milestone, having raised $4 million for wildlife and wild places, since the Zoo's Quarters for Conservation (Q4C) program launched in 2008.
Every visitor to the Zoo receives three "quarter" tokens representing the 75¢ Q4C allocation from their admission fee. They can then show support for the legacy projects they love by placing their tokens in the corresponding slots in the Q4C kiosks.
In recent years, CMZoo staff have traveled to Africa, Central America, Indonesia and the prairies of Wyoming and Colorado, to lend their expertise in support of our partner organizations around the world. Our guests' support is far-reaching. It benefits the organizations we support, their teams, local communities and the animals they protect. It also enriches the lives of our teammates who return to the Zoo to share new experiences and reignited passions for protecting wildlife and wild places.
Before launching Q4C in 2008, CMZoo was supporting conservation, but at a fraction of what is possible now. As more people visit the Zoo each year, we can contribute more money to conservation. In the past few years, CMZoo has collected about half a million dollars per year through Q4C. In the Zoo's 2021 fiscal year, guests contributed nearly three-quarters of a million dollars. The Zoo's membership and EdVenture programs also contribute to conservation. CMZoo's current beneficiary species include giraffe, Panama frogs, orangutans, black-footed ferrets, African elephants and rhinos, Wyoming toads and African vultures.
About Our Current Q4C Legacy Projects
Q4C beneficiary species truly run the gamut, from 18-foot-tall giraffe in Africa, to tiny toads in Wyoming.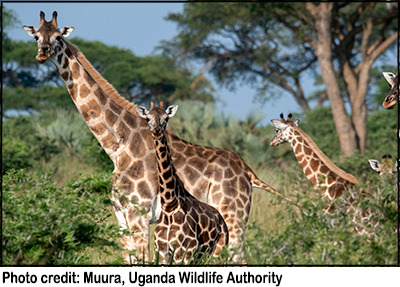 Q4C helps support a multi-organizational giraffe conservation project in Uganda, called Operation Twiga. Operation Twiga began in 2016 to give giraffe a better chance of survival by establishing new populations of giraffe in safe habitats, in partnership with Giraffe Conservation Foundation, Uganda Wildlife Authority and others. Operation Twiga V (2020) was a continuation of Operation Twiga IV (2019), which CMZoo staff attended to assist with anesthesia and moving the giraffe. Both giraffe translocations contributed to populations in Pian Upe Wildlife Reserve, an historic habitat in Uganda where giraffe hadn't existed for more than 20 years. Ongoing Q4C funding supports the teams who continue to monitor and protect these newly established wild populations.
Q4C also funds CMZoo's on-site breeding programs for black-footed ferrets and Wyoming toads. These endangered prairie species were declared extinct in the wild in the 1980s and early 1990s, and are only around today because of decades of recovery efforts from zoos and partner organizations. 18 ferret kits were born at CMZoo in the 2021 breeding season, and six juveniles were released into their natural habitat by CMZoo staff and wildlife partners in the fall. In Spring and Summer 2021, CMZoo staff released 228 yearling "headstart" toads, 58 metamorph toadlets, and 5,338 tadpoles to their native habitat in Wyoming. Summer 2022 breed-and-release efforts are well underway, and later this year, more of these vital species will join their relatives in the wild, thanks to CMZoo guests' support.


Wyoming toads are symbolic of so many amphibian species in decline all over the world, including Panamanian frogs, which also receive support thanks to Q4C funds and frontline CMZoo staff support. In February 2019, three CMZoo staff members went to Panama to assist the Panama Amphibian Rescue and Conservation Project by remodifying two feeder insect pods into frog pods. For this 10-day trip, the goal was to set up two shipping containers to house and breed approximately 450 additional frogs brought in from El Valle Amphibian Conservation Center, and later released. This involved disinfecting the shipping containers, painting, installing plumbing and water filtration, assembling racks, and drilling and prepping tanks.
CMZoo's work to save habitats for orangutans through advocacy for sustainable palm oil production is also largely supported by Q4C. Thanks to that financial support, CMZoo's sustainable palm oil team consults staff at other conservation organizations on starting their own palm oil programs. The CMZoo sustainable palm oil team continued to focus on international work through the World Association of Zoos and Aquariums (WAZA). The team was instrumental in the creation of the WAZA Short Guide on Sustainable Palm Oil and the sustainable palm oil shopping app, which allows shoppers to scan the barcodes of items to learn whether producers have committed to using sustainable palm oil.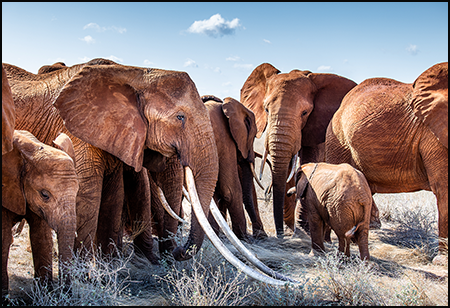 Through Q4C, CMZoo also supports a conservation partner called Tsavo Trust – an organization in Kenya that works to protect the last of the big tuskers, which are African elephants with tusks weighing more than 100 pounds. CMZoo's funds helped Tsavo Trust build permanent housing that allowed staff to live on the land where these critically endangered giants live. It also paid for pilot hours of frontline aerial surveillance that protects rhinos and elephants from poachers seeking their ivory.
The seventh Q4C legacy partner is VulPro – protectors of African vultures. The dedicated staff at VulPro, in South Africa, save vultures who have been injured as wild birds, and rehabilitates them to release. Those that are too injured to survive in the wild find a permanent home at VulPro.
For more information about these projects and Quarters for Conservation, visit cmzoo.org/conservation.
About Cheyenne Mountain Zoo
Cheyenne Mountain Zoological Society was founded in 1926. Today, Cheyenne Mountain Zoo, America's mountain Zoo, offers comprehensive education programs, exciting conservation efforts and truly fantastic animal experiences. In 2021, Cheyenne Mountain Zoo was voted #4 Best Zoo in North America and CMZoo's Rocky Mountain Wild was named #3 Best Zoo Exhibit in North America by USA TODAY 10Best Readers' Choice Awards. It is Cheyenne Mountain Zoo's goal to help guests fall in love with animals and nature, and take action to protect them. Of the 242 zoos and aquariums accredited by the Association of Zoos and Aquariums (AZA), Cheyenne Mountain Zoo is one of just a few operating without tax support. Cheyenne Mountain Zoo depends on admissions, membership dues, special event attendance and donations for funding.