MOM AND BABY ARE DOING WELL; GUESTS CAN SEE THEM TOMORROW Bailey, a 10-year-old reticulated giraffe at Cheyenne Mountain Zoo, welcomed a calf to the herd today at 10:49 a.m. MT. Bailey and the baby are doing well and will be visible from a short distance to guests in the giraffe barn tomorrow, as long as mom and calf continue to appear healthy and calm. The giraffe barn will be a quiet zone for guests and staff, and if mom and baby show any signs of discomfort, the barn will be closed.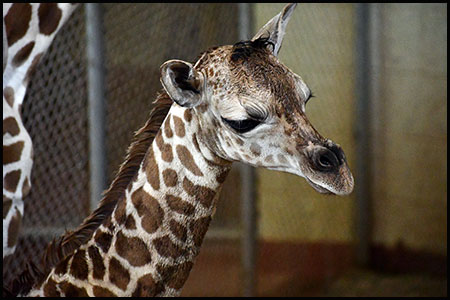 Bailey welcomed her second calf – and second daughter – to the world just one hour and 32 minutes after a group of lucky guests saw Bailey's water break in the giraffe yard outside. The calf appears to be healthy, having met milestones its care team wants to see, like taking its first steps and nursing within the first two hours after it was born.
The calf made several attempts to stand on its own, which is normal for giraffe calves as they get the hang of their long legs. After a few stumbles, the calf maneuvered itself against a fence where it was struggling to get footing. The giraffe care team asked Bailey to move into the stall next to her baby, which she did willingly. The care team then entered the stall with the calf, picked up the calf, and moved her into the center of the stall where she managed to stay on her feet and was quickly rejoined by mom.
Because her care team needed to intervene for just a moment, they were able to confirm the calf is female. We don't have an exact height or weight on the baby, but she appears to be a normal weight and height for a calf – close to six feet tall and around 125 pounds. Following Cheyenne Mountain Zoo tradition, the calf will not be named until she is at least 30 days old.
The calf is the seventeenth member of Cheyenne Mountain Zoo's reticulated giraffe herd. The calf is the seventh to be sired by dad, Khalid (pronounced cull-EED). Bailey was born at Henry Doorly Zoo and Aquarium, in Omaha, Neb., in March 2012 and moved to Cheyenne Mountain Zoo on a breeding recommendation in Sept. 2016. CMZoo's breeding program began in 1954 and has welcomed more than 200 calves since its inception.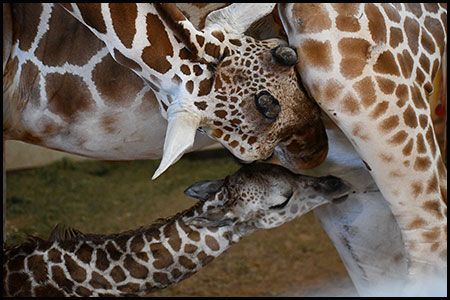 The giraffe building will be closed the rest of today to allow mom and baby some quiet time to bond and nurse. The rest of the CMZoo herd will be available for viewing and feeding in the outside yard from elevated platforms, where guests can get eye-to-eye with and feed lettuce to the herd.
Tens of thousands of worldwide viewers witnessed the calf's birth on Cheyenne Mountain Zoo's live feeds on Instagram, Facebook and YouTube. The indoor live stream, at cmzoo.org/giraffecam or youtube.com/@CheyenneMtnZoo, will continue to stream live from the sand stall for about a week, where Bailey and the calf can be seen indoors. Both outdoor giraffe yard camera feeds are also available at cmzoo.org/giraffecam or youtube.com/@CheyenneMtnZoo. The Zoo will continue to provide updates on social media channels for the coming weeks.
Through Cheyenne Mountain Zoo's Quarters for Conservation program, by which 75 cents of every Zoo admission is allocated to conservation, guests have helped CMZoo send more than $4 million to support important conservation efforts since 2008.
About Cheyenne Mountain Zoo
Cheyenne Mountain Zoological Society was founded in 1926. Today, Cheyenne Mountain Zoo, America's mountain Zoo, offers comprehensive education programs, exciting conservation efforts and truly fantastic animal experiences. In 2022, Cheyenne Mountain Zoo was voted #3 Best Zoo in North America and CMZoo's Rocky Mountain Wild was named #2 Best Zoo Exhibit in North America by USA TODAY 10Best Readers' Choice Awards. It is Cheyenne Mountain Zoo's goal to help guests fall in love with animals and nature, and take action to protect them. Since 2008, CMZoo's Quarters for Conservation program has raised $4 million dedicated to frontline conservation efforts around the world. Of the 239 zoos and aquariums accredited by the Association of Zoos and Aquariums (AZA), Cheyenne Mountain Zoo is one of just a few operating without tax support. Cheyenne Mountain Zoo depends on admissions, membership dues, special event attendance and donations for funding.