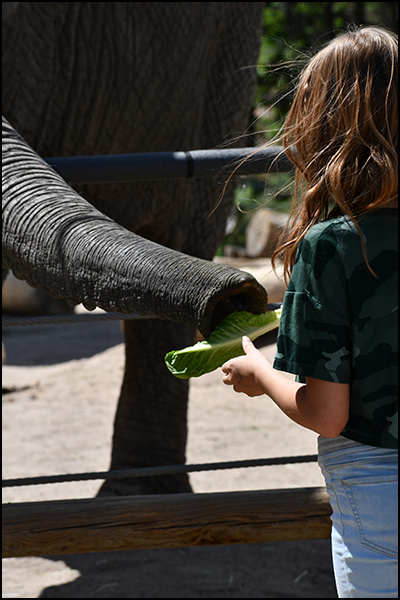 When you give Lucky, one of six CMZoo African elephants, an apple, you're giving her wild counterparts a better chance at survival. Since 2016, CMZoo's scheduled paid elephant feeding opportunities have sent $25,000 annually to Tsavo Trust, our frontline conservation partner in Tsavo National Park. Now, guests are raising $75,000 per year for our frontline African elephant and rhino conservation partners, Tsavo Trust, just by participating in elephant feedings.
From May through October, guests can hand-feed one of CMZoo's African elephants for $10 to $15 per bundle of produce. These special experiences are available, as long as weather allows, from 11 to 11:30 a.m. and from 2:30 to 3 p.m. daily. Animals at CMZoo always get to decide if they want to participate in these up-close guest experiences. The aging elephants at CMZoo consistently show their keepers they enjoy the interactions, which are mentally stimulating and full of yummy snacks like carrots, apples, zucchini and more.
By participating in this add-on experience with our 'Golden Girls,' which we affectionately call our elephants because they are in their golden years, guests can make special connections with them. These feeding opportunities help guests make that connection and make a difference for wildlife at the same time.
"Standing at the feet of one of CMZoo's multi-ton African elephants and watching her incredible trunk reach out to take a piece of produce right from your hand is life changing," said Nicole Chaney, CMZoo administrative and research assistant. Chaney is heavily involved with CMZoo's conservation efforts, including our relationship with Tsavo Trust. "But, it's not just life-changing for our guests. It's also saving the lives of wild elephants and rhinos in Tsavo National Park. I love that we can foster these individual relationships between our elephants and guests, and that our guests have this opportunity to send support directly to wild elephants."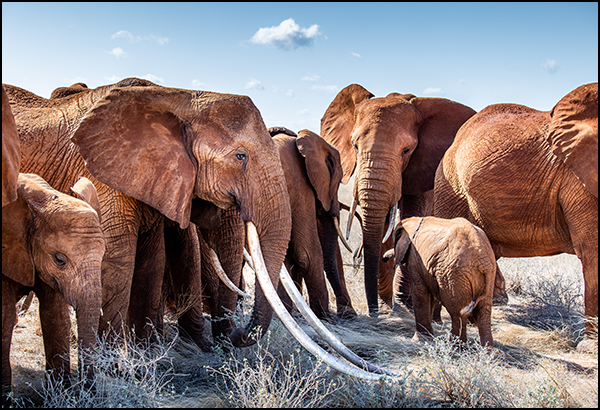 Tsavo Trust works to protect the last of the big tuskers, which are African elephants with tusks weighing more than 100 pounds, and other species, like black rhinos, in Tsavo National Park. Funds raised by CMZoo guests pay for pilot hours of frontline aerial surveillance that protects rhinos and elephants from poachers seeking their ivory and horns.
Along with funding from the Kratt Family Foundation, CMZoo guests' support has helped build permanent housing that allows staff to live on the land where these critically endangered giants live. It has funded the construction of a vehicle maintenance building, which means their team isn't delayed by having to take their vehicles outside of the park for repairs. It also funds special projects in local communities, which help residents form a connection with the elephants they share land with. One special project supported by the Kratt Family Foundation and CMZoo was the construction of two clean water boreholes in nearby communities, which have helped their conservation outreach efforts by helping locals learn more about conservation and even become inspired to protect their animal neighbors.
With this additional funding, CMZoo guests are supporting another special project focused on water, which is a precious resource for humans, animals and their entire ecosystem. This funding, and ongoing funding, is assisting with the construction of a sand dam in the park this year, which will help preserve drinking water for wildlife.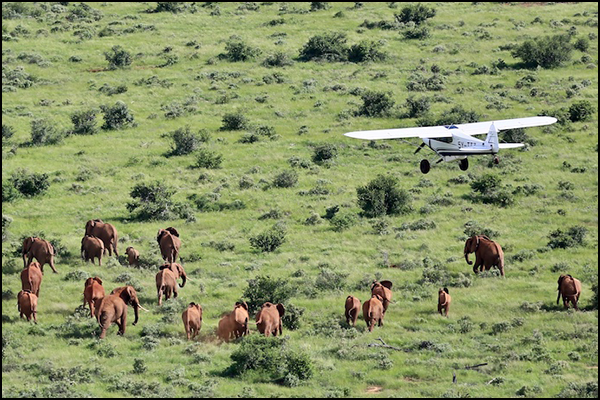 A sand dam is essentially a reinforced stone wall built across a seasonal sandy riverbed, usually on top of a stone bedrock. Water behind the sand dam raises the water table and collects on the sand, which acts as a sponge and holds water for long dry periods without evaporation.
Tsavo Trust has already constructed eight sand dams as part of a plan to construct approximately 25 for wildlife in the Tsavo National Parks. The sand dam method is a tried-and-tested method of providing small, but consistent, amounts of water through a seepage system on the downside of the dam wall, where animals can drink it. They're ideal in arid areas, like Tsavo National Park, and don't create the 'desertification effect' that's sometimes associated with sinking of boreholes in protected areas where higher numbers of elephants live.
"Sand dams have been used to great effect in dry arid regions for humans and livestock, and now, through this project, there is no reason why wildlife cannot reap the same benefits within wildlife conservation areas," said Chaney. "Water supply and distribution for wildlife in Tsavo National Parks has always been a huge challenge, particularly during the dry season, due to erratic rain patterns and soils that cannot hold water for extended periods. The sand dam plan could be one answer to this problem, and we're proud to be able to support the efforts to construct several well-designed and distributed waterholes for animals over the coming years within the Tsavo Conservation Area."