Zoos play a pivotal role in the care and conservation of the world's most vulnerable species. From the largest land mammals, like giraffe and elephants, to the smallest jungle dwellers, like tree frogs and insects, species all over the world are regularly facing challenges that can threaten their future. The best tools to protect these species are education and sharing knowledge. Cheyenne Mountain Zoo has an event that equips our young visitors (and adults!) with this power in a fun and engaging way.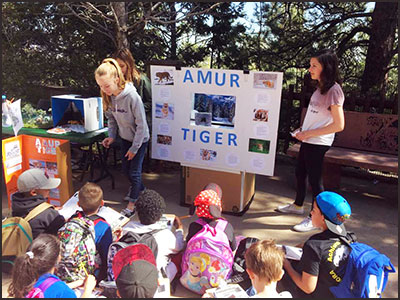 Endangered Species Day is a Zoo-wide event, geared towards other school groups' participation, on Friday, April 15. They day-long event features 25 interactive stations led by 7th graders from Cheyenne Mountain Junior High School. Homeschool groups, scout troops, and preschools have all attended in previous years.
The 7th grade presenters have spent months researching endangered species and the conservation actions in place to protect them. The stations will feature student-made posters with powerful information and visuals, as well as interactive games, activities, and demonstrations that engage Zoo guests in captivating ways. These students are passionate and excited about sharing their knowledge and inspiring others to care for these species.
Though the day is geared towards other school groups' participation, other groups can participate! We even encourage small groups, like parents and their kids, to register to attend Endangered Species Day.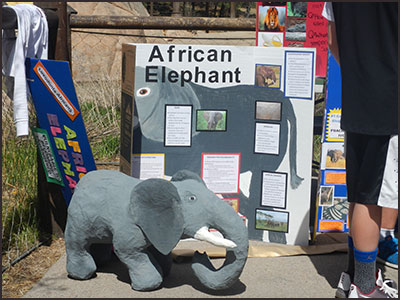 You must register in advance as a group for CMZoo's Endangered Species Day to receive a passport that aligns with the stations throughout the Zoo. As participants interact with the stations, their passports will receive a stamp. After visiting all 25 stations, and the passport is full of stamps, participants will be equipped with new knowledge and actions to better protect wildlife and wild places. Endangered Species Day registration includes admission to the Zoo for that day. To register and learn more about Endangered Species Day, visit cmzoo.org/ESD.
Members and zoo guests who are not affiliated with a group may also reserve daytime admission to the Zoo on April 15, and interact with the stations as a supplemental part of a regular Zoo visit. Advance daytime admission tickets are required. Tickets are available at cmzoo.org/visit.