As a conservation organization in Colorado, water savings are high on the list of local preservation focuses for Cheyenne Mountain Zoo. Five CMZoo staff members and a CMZoo board member recently returned from a two-day trip to Del Norte in the Rio Grande Basin of Southern Colorado. There, they got to witness how water truly touches everything and everyone.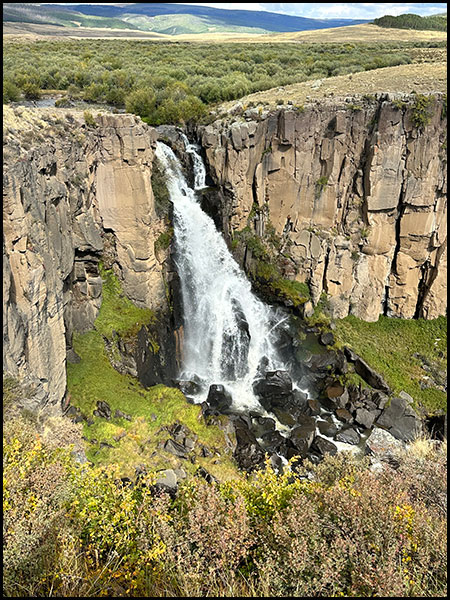 "The landscape and the community near the Conejos River are beautiful – and important to the survival of countless species of fish, plants, mammals and birds," said Nicole Chaney, conservation coordinator at CMZoo. "Feeling the roar of Clear Creek Falls, witnessing the wildlife that rely on the river, and meeting the people whose livelihoods depend on it was really moving. The experience made us all the more grateful for our guests and members, who make the Zoo's support for this effort possible."
Earlier this year, CMZoo celebrated a huge conservation milestone reducing its water usage by nearly half, saving 13 million gallons of water per year. To offset its water usage, CMZoo also continued a commitment to Trout Unlimited, a nonprofit organization dedicated to the protection and restoration of habitat for animals that rely on our local rivers, which operates a program in the Rio Grande Basin of southern Colorado.
Under the program, Trout Unlimited arranges for releases of water from storage reservoirs to restore river flows for the benefit of fish populations and the riverine environment. Each year, CMZoo reviews its water use for the previous year and purchases that same amount of water, which is distributed to help restore stream flows in the winter months in the Upper Rio Grande Basin. This water is re-timed for winter releases, when normally the entire flow would be stored in reservoirs for future irrigation use in the summer months.
Trout Unlimited conducts complicated negotiations with water rights holders in efforts to get multiple uses out of that water. If the Zoo uses 20 million gallons per year, the Zoo purchases and restores flows by putting back 20 million gallons into the local waterways. Last year, the Zoo purchased 20 million gallons and spent $20,000 to offset that usage. Since the Zoo was able to reduce its water use by 4 million gallons in 2022, it will be purchasing 16 million gallons to restore to the waterways this year.
During their trip, the team visited reservoirs, water delivery facilities, and several streams where flows have been restored. In areas where winter flows have been restored, the surrounding areas have benefitted. If a stream stays flowing, it keeps the water table high, which has a dramatic effect on the landscapes the team visited, by improving the presence and health of vegetation that attracts the native wildlife back into this area. Flowing streams are very important for fish.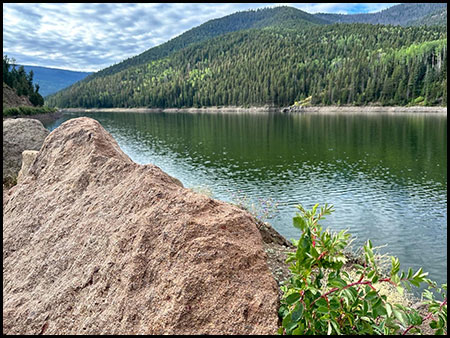 If flows are reduced in the winter months, fish have to crowd into small pools and compete for resources which affects their populations negatively and limits aquatic ecosystem productivity. In addition to its flow restoration efforts, TU also restores stream habitat in the area to provide healthier habitats for the fish during low flows. They also work with Colorado Parks and Wildlife to monitor the health of the fish populations in the basin.
"We learned that this basin is an important habitat for two threatened bird species," said Chaney. "The Southwestern willow flycatcher, a federally endangered bird, and the Western yellow-billed cuckoo, a species of concern with declining populations, rely on these waterway habitats for their survival. Healthy rivers provide safe habitats, food sources and breeding opportunities for these birds."
The team also learned about impressive conservation technology being used in the region that measures and controls water flows impressively accurately. Water rights holders can look at their smartphones each day for real-time data.
The region's people, who are local stewards of this rich ecosystem, depend on the river for jobs, tourism and recreation. The town's population triples in the summer months with tourists that make a huge impact on the local economy. The CMZoo team visited the Riverfront Project in Del Norte, Colorado – a large-scale renovation at a point in the river that flows through town. It was designed to facilitate recreation on the river including nature trails, picnic, swimming and fishing areas, and a "river wave" that people can surf or tube in.
Seeing the projects up-close left the team feeling inspired to continue their hard work in Colorado Springs, inviting people to visit the Zoo and inspiring them to take action to save wildlife and wild places. The Zoo is an exciting place to learn and make memories, and it's an easy way for guests to contribute to reputable conservation efforts the Zoo vets and supports. All they need to do is visit the Zoo.
"Modern zoos act as links between frontline conservation organizations and the general public," said Grace Sullivan, senior lead keeper at Water's Edge: Africa, who went on the conservation trip. "Because of the number of people our animal ambassadors reach and inspire, we can help our members and supporters learn about and advocate for our shared conservation causes. This trip made a big impact on me, and I learned new ways to help connect our community to the Rio Grande Basin community, so we're going to incorporate them into our education opportunities for guests right away."
Every visit to CMZoo is conservation in action. Through the Zoo's Quarters for Conservation program, which allocates 75¢ from every admission to frontline conservation efforts throughout the world, guests and members have raised more than $4.5 million since 2008. Annually, CMZoo members contribute $75,000 to smaller-scale staff-championed projects, and with additional conservation funds from Zoo revenue, CMZoo supporters help fund ongoing conservation partners, like Trout Unlimited.
"I hope our guests and members know what an impact they're making for wildlife and wild places through this partnership," said Sullivan. "We're excited to bring back what we learned so we can inspire more members and visitors to continue supporting the Zoo as an easy way to continue supporting important work, like this."