Summer is the busiest season of the year at Cheyenne Mountain Zoo, as we welcome locals on summer break and out-of-towners spending their vacations in the Rocky Mountains. Though the number of animals we care for typically stays the same during those warmer months, the number of guests can be thousands more than those who might visit during our winter months. To prepare for our summer guests to have the time of their lives at CMZoo, we spend the spring months looking for amazing people to help provide those experiences!
We get a lot of questions about how people can join our Zoo team, and how they can get the chance to work at the 4th Best Zoo in the U.S., ranked by USA TODAY 10Best Readers' Choice Awards. Here is the inside scoop: late winter and early spring are the best times of year to look for opportunities for employment with Cheyenne Mountain Zoo. In fact, we are gearing up right now to welcome new faces to our summer team.
Right now, CMZoo is looking for passionate people to join our Guest Experiences, Food Service and Retail, and Summer Camp Mentor teams.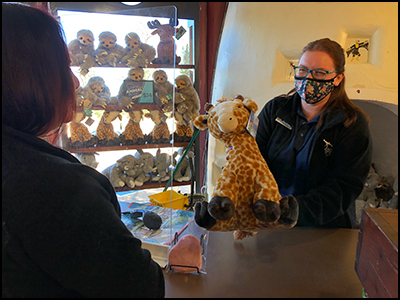 CMZoo's Guest Experiences team members are truly the face of the Zoo, and provide amazing human interactions for our guests. Whether it's educating guests about the Quarters for Conservation program at the front gate, or helping to make sure our giraffe get lots of lettuce snacks at our giraffe feeding experience, these employees are one of the most powerful reasons guests keep coming back to CMZoo. The Guest Experiences team plays a pivotal role in connecting our guests from all over the world to our incredible zoo.
Ciera Ramirez works in a variety of roles on the Guest Experiences team at CMZoo, including admissions, the giraffe feeding lettuce hut, and the front desk in the administration office. She has been a Guest Experiences team member for two years.
"We're all animal lovers who have a heart for guest service," said Ramirez. "We don't work directly with the animals, but we get to learn about them over time. It's rewarding to help our guests enjoy their visit to the Zoo by sharing information and providing tips for making the most of their time with us. My favorite part of my job is seeing little kids' faces light up with excitement when they feed the giraffe herd."


Summer Camp Mentor is an ideal role for those who love to work with kids and to connect them to the natural world. Camp mentors are crucial for turning our youngest guests into future stewards for wildlife and wild places. Zoo camps are not your typical summer camp experience, and camp mentors are not your typical camp counselors. This role is hands-on, nature-based, kid-guided and conservation-minded. Cheyenne Mountain Zoo's camp program has been named one of the best in Colorado Springs, and it is all due to the wonderful people who mentor the campers through the experience.
Zachary Ehlers has been a Summer Camp Mentor for two years, and is returning for his third year in 2022.
"I really value being able to help build the bond between youth and nature," said Ehlers. "Providing such a unique and fun experience at Summer Zoo Camp while sharing my personal passion for the outdoors is priceless."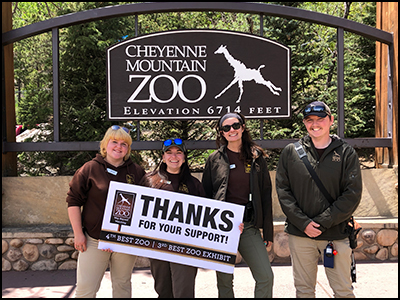 Our Food Service and Retail team can be found anywhere guests can find dining and retail shopping opportunities at the Zoo. Although these team members technically work for a separate company – The SSA Group – they are an integral part of the CMZoo family. Like the Guest Experiences team, The SSA Group team members provide a world-class Zoo experience with delicious food, tasty beverages and unique items for purchase. Did you know that the gift shop has items that directly contribute to the conservation of animals in the wild, and that a portion of every purchase helps support the good work being done at CMZoo? Members of this team are not only well versed in their products, but also the environmental impacts of these items as well. If you love food, people, fast-paced environments and animals, then this is the perfect summer (or year-round!) opportunity.
Mary England is a gift shop retail associate with The SSA Group at CMZoo.
"Working in the gift shop is really fun because we get to see guests on the way out and hear all about their visits," said England. "It's really endearing, and it's rewarding to know you're helping guests choose meaningful gifts that represent the memories and animal connections they made here. Plus, I get to walk around the mountain and visit the animals on my break. It's great!"
If you or someone in your life is looking for an opportunity to join the Cheyenne Mountain Zoo family, be sure to visit cmzoo.org/jobs to see all the current job postings and how to apply.