In humans, physical activity not only benefits physical health but mental health as well. At Cheyenne Mountain Zoo, the training and enrichment the animals can choose to participate in are also beneficial.
Research has shown that kids who have moderate physical activity in their day show increased attention, comprehension and learning ability, as our sponsor, Children's Hospital Colorado explains in this article. The same is true for animals, which is why CMZoo keepers and trainers make daily enrichment and training a priority for the animals in their care, all with positive reinforcement.
"When we provide specific opportunities for animals to be physically active, we often see their overall activity level increase, even outside of the opportunities that we are providing," said Rick Hester, Cheyenne Mountain Zoo animal behavior programs manager.
Emmett, CMZoo grizzly bear, consistently did a stretch on his own during interactions with keepers, which bears in the wild sometimes do.
"Emmett would sit down and hold his back legs with his front paws," said Rebecca Zwicker, Rocky Mountain Wild animal care manager. "We saw him doing it so often that we started to incorporate it into his regular training and demonstrations, so our guests can see those natural behaviors. We call it the 'yoga bear.'"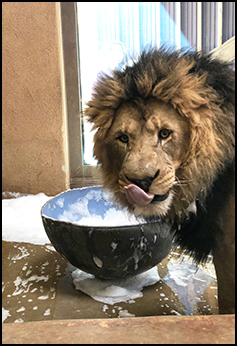 Over time, CMZoo grizzly bear, Digger, saw Emmett being rewarded for this behavior, and began imitating it, which his keepers of course rewarded.
Guests can see Emmett and Digger doing "yoga bear," presenting their teeth for keepers to check and offering different parts of their bodies through a safe barrier, where keepers can perform health assessments and decide whether the bears might need veterinary care.
"Most of us know when our dog is excited to head out on a walk in the park, or is nervous about walking into the vet clinic," said Hester. "Our animal keepers work hard to build trusting relationships with the animals in their care, so they also pick up on those insights from the animals."
The African lion pride recently showed their keepers that a new and unusual enrichment activity got their approval, says African Rift Valley Keeper, Diana Miller, who has worked with the lions for six years.
"The lions absolutely love bubble baths, and we didn't realize that until this year," Miller said. "It surprised us, because we know they don't usually like getting in the water. But, because we recognize their behaviors, we realized pretty quickly that it was different when bubbles were involved. They absolutely love it. We know they love it, because they play enthusiastically for a long time whenever when we offer them the bubble bath enrichment, and it's really fun for guests to see."
For a full schedule of demonstrations and training sessions, visit www.cmzoo.org/shows.