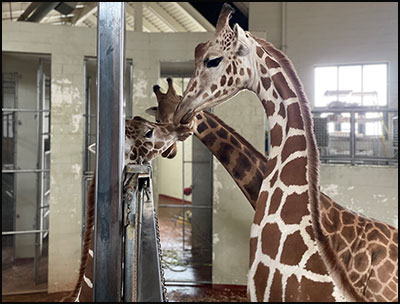 Kay, a one-year-old female giraffe from Lincoln Children's Zoo (LCZ), arrived at Cheyenne Mountain Zoo on the evening of Wed., April 19, and she's settling in well. She has shared space with Msichana and Muziki, and, this week, started introductions with other herd members through a protective barrier, including Ohe and Viv, who were very interested!
Just like people, animals respond to changes in their surroundings and routines, so it's important to have a plan in place. Long before Kay arrived, her care teams at LCZ and CMZoo started working together to make her transition go as smoothly as possible. Our partners at Children's Hospital Colorado have advice for parents to teach their kids skills to navigate changes and advocate for their well-beings. At CMZoo, keepers do the same for their animals.
In anticipation of Kay's arrival, the African Rift Valley team set up clean and comfortable spaces for her routine quarantine period, planned quarantine protocols and necessary sample collections with CMZoo's veterinary team, chose 20-year-old giraffe, Msichana, as a friend to keep Kay company during quarantine, and worked with LCZ's giraffe keeper team to learn all about her personality, training and tendencies.
CMZoo has welcomed a lot of giraffe over the years, so keepers know what works best for the entire herd, and they also take an individual giraffe's needs into perspective once they arrive. What has made this move especially successful for Kay, so far, is the effort both teams put into her care.


"We have been in communication with Kay's team at LCZ a lot," said Savannah Woods, African Rift Valley keeper at CMZoo. "We feel really prepared to care for Kay as an individual because of the information they've been able to provide, because we have such extensive experience with giraffe, and because they have done such a great job preparing her for the move."
Kay is the second giraffe ever born at Lincoln Children's Zoo, and the first to move to another location. Jake Beiermann, primary giraffe keeper at LCZ, has worked with Kay since she was born. He traveled to CMZoo with Kay to help her settle in and to spend a few days with the keeper team at CMZoo.
"We know CMZoo is big on voluntary husbandry training, so we wanted Kay to be prepared with some basic behaviors so she could get going into the routine right away," said Beiermann. "Before her big road trip, we also exposed her to a lot of new and different situations so she could learn that new things didn't need to be scary. When she arrived and met a new care team, a new giraffe herd, a new location and whole new routine, she was confident and adaptable. She's very confident."
Because Kay needed to be bottle fed as a baby at LCZ, she is extremely outgoing and comfortable with people. She gently and eagerly approaches her new keeper team through a protective barrier and enthusiastically investigates new spaces and enrichment activities at CMZoo.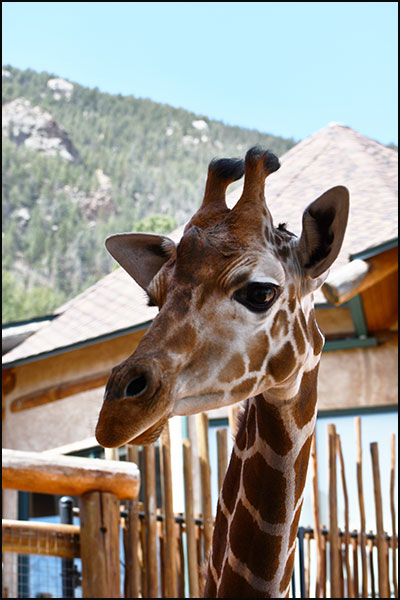 "I think she's going to be a fantastic ambassador for her species, and because our Zoo does so much to get guests close to animals, I think she's going to enjoy that setup," said Woods. "LCZ has done amazing work with her training. She's only a year old, and she's already positioning her foot on the hoof care block, so we're excited to continue that because husbandry is such a big part of our program at CMZoo."
Once Kay receives the medical all-clear from the CMZoo veterinary team, she will start to meet other members of the herd. Once she's comfortable with that, her care team will continue increasing the number of giraffe she'll share space with, and the spaces she'll explore. Kay lived with two other calves at LCZ and spent much of her time running and playing with them, so CMZoo's team has high hopes for her buddying up with six-month-old Wednesday, 4-year-old Viv, 4-year-old Ohe, and 5-year-old Panya.
"I'm excited to see her out with the big herd when the time is right," said Beiermann. "I couldn't ask for her to go to a better place than CMZoo. I've been lucky enough to get to know the CMZoo crew, and I know she's in the best hands. Hopefully we'll get to see her contribute to the Giraffe Species Survival Plan with her own babies someday, and that our efforts to save her as a calf were all leading to good things in the future."
CMZoo will provide updates on Kay as she continues to settle in at CMZoo.