What's small, has a wiggly nose and adorable eyes, and feels like a cactus? A hedgehog!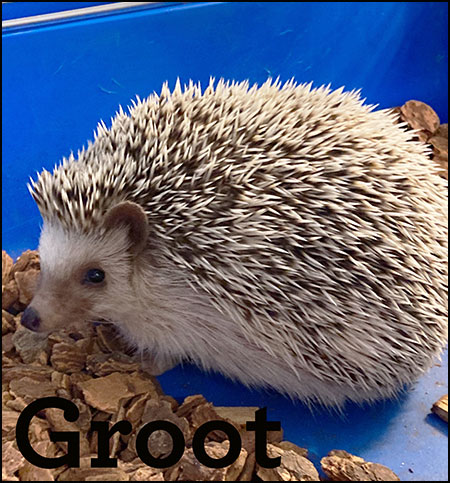 The Loft at Cheyenne Mountain Zoo is now home to two adorable African pygmy hedgehogs, named Mantis and Groot. These animal ambassadors are sisters, and are about a year and a half old. Hedgehogs are primarily solitary, so you will find them housed separately but next to each other in The Loft.
They look a lot alike, but if you look closely, you will see that Groot is a bit bigger than Mantis. Mantis weighs about 425 grams (less than a pound) and Groot weighs 625 grams (about one and a half pounds). We weigh our hedgehogs in grams, not in pounds like people or bigger animals. One gram is about equal to the weight of one paperclip, so if you get bored you can count out 625 paperclips to see just how much Groot weighs!
Mantis and Groot have started training for all sorts of activities as animal ambassadors. They have already done some virtual meet-and-greets, some ZOOMobile visits, and have even travelled to a local news station for a live interview on TV.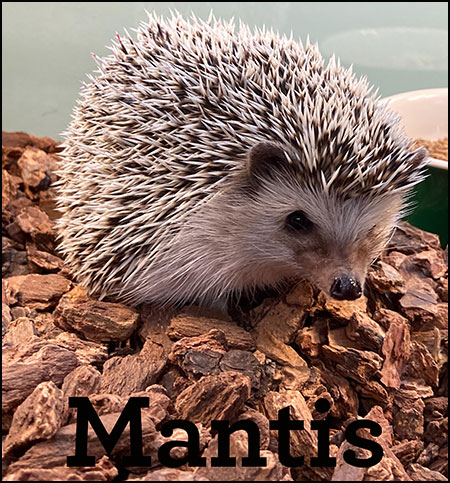 They are almost ready to create animal art and participate in meet-and-greets, too. Mantis and Groot are nocturnal, which means they love to sleep all day. But, once they are awake, they love to explore new spaces, smell new smells, and eat some tasty bugs.
Mantis and Groot are the newest additions to The Loft, but we also have Flora, the three-banded armadillo, and Bean, the two-toed sloth, that recently joined The Loft family, as well. All of these animal friends are ready (or almost ready) to participate in animal encounters. So, if you are interested in meeting our new hedgehogs, armadillo or sloth, be sure to visit cmzoo.org/meet or cmzoo.org/paint to find the perfect way to get up close! On your next visit to the Zoo, swing by The Loft to check out these new additions.