Did you know that September is National Chicken Month? Well, Cheyenne Mountain Zoo has some very special honorees making their appearance just in time to celebrate! We are welcoming a new flock of little ladies to the chicken yard in My Big Backyard who will eventually be a part of the chicken feeding experience.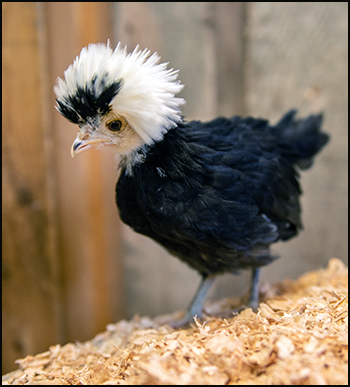 The new girls came to us as day-old chicks in August. After a few weeks, they have moved to the barn in My Big Backyard, where they can be seen on warm days next to the opossum exhibit (peek in the half door to hear some adorable peeps). Breeds include Speckled Sussex, Silver Laced Hamburgs and Australorps. This group of individuals has been named after dessert foods like Tiramisu, Figgy Pudding, Bon Bon and S'mores.
Our current flock of feathered friends are all three years old and also came to the zoo as day-old chicks in 2017. They are named after chefs and spices, such as Martha Stewart, Betty Crocker, Cinnamon, and a fan favorite, Rosemary, a Polish chicken, who has a distinct white 'poof' of feathers on her head. These chickens start and end their day with our famous Chicken Parade, during which they run, walk, saunter, and meander their way to and from their coop before and after spending their day in the chicken feeding area, interacting with Zoo guests. Some like to leave the yard throughout the day to explore the surrounding areas looking for bugs, spying on Guy the rooster, or just checking out the Zoo.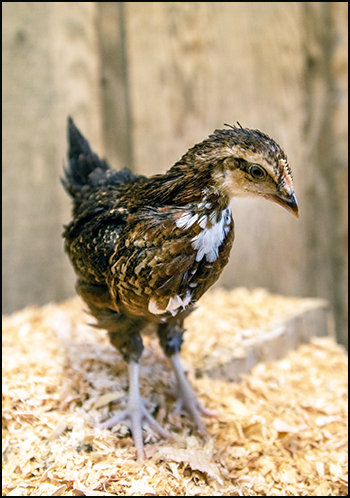 By the end of September, guests will likely see the chicks in a 'transition yard' next to the big birds as they all get acquainted. Chickens have complex social lives and it takes time to introduce them. Our Zoo keepers have done several successful chicken introductions over the years, and the trick is to let the birds take their time getting to know one another before mixing all of the chickens in one yard. Chickens grow really fast, so the chicks will soon look more like teenagers than little babies, but the cuteness level is still really high! Once everyone is comfortable with each other, the chicks will join the big birds and everyone will be part of the parades and feeding experiences, available for guests for $1 per cup of feed on days warm enough for the chickens to be outside – usually 40 degrees or warmer.
We are so excited about our new chicken friends and hope you are just as excited to meet them, too. Be sure to visit My Big Backyard and look for the new chicks on your next visit!