Although admissions to the Zoo might slow down in the winter, behind the scenes, our team is constantly working to provide enriching habitats that support our animals' natural behaviors and needs.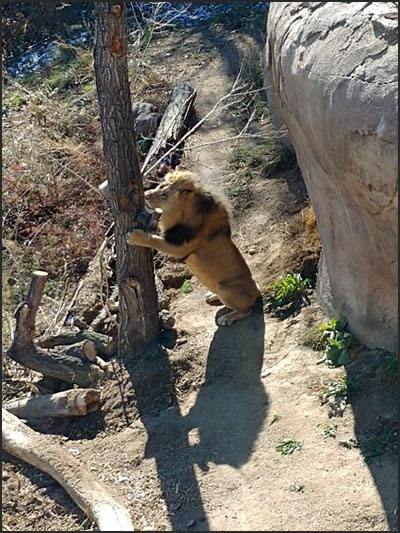 Frank Haas, Cheyenne Mountain Zoo landscape architect and planner, often leads projects that enrich our animals' lives, but which many Zoo goers may not recognize right away. These projects deserve a little limelight, though.
In mid-November, two of these lesser-known projects were completed: new trees for the Colobus monkeys and African lions.
Logistics included finding the right species of tree, getting permits for transporting trees, unweaving the mesh enclosures, removing the former trees, pouring concrete piers for the new trees, rerouting guest traffic around the 110-ton crane that lifted the trees into the exhibits, and more. All told, the project took several months to coordinate and four days to execute.
"It's a lot of planning and work for what you see, but that's what it takes to do it right and most efficiently the first time," said Haas. "Our top priority is always safety. Sometimes that means having to detour guests. It also means communicating with animal keepers to prepare their animals for the changes. We're committed to giving our animals the best homes we can."
CMZoo's five African lions, Abuto, Lomela, Elsa, Boma and Aslan, and four Colobus monkeys, Tisa, Rudi, Sudi and Dezi, are well prepared for potential interruptions to their daily lives, like this. The animals train to respond to a recall behavior, where the keepers ask them to come to their indoor spaces for a variety of reasons, like weather, routine veterinary care, training, or exhibit maintenance.
"While the animals are inside, we spend lots of time with them to keep them calm and engaged," said Michelle Salido, lead keeper in African Rift Valley. "We did lots of training and monitored them to be sure the activity outside wasn't causing them stress."


Rudi, Sudi, Dezi and Tisa seemed to be curious about the activity outside their windows while people worked in their outdoor space.
"They could see through their doors to the outside yard and they were really interested in what was going on," said Brooke Powell, African Rift Valley keeper who works with the Colobus monkeys. "They kept looking at the workers and looking back at us, but they were calm. We were really proud of the way they handled it."
In addition to the three new trees, crews installed new horizontal pieces that connect the trees. With incredibly strong back legs, Colobus monkeys do a lot of jumping, rather than swinging, like some primates. They can make huge leaps up to 50 feet. They like to jump quickly from tree to tree, so the horizontal pieces allow them to move even more freely than before.
"It's a huge benefit to their welfare because they like to stay up high and move around quickly," said Powell. "The new trees and horizontal connectors are amazing. They love it! When they first saw it and realized this new setup was safe for them to explore, all four of them went all over the trees. They're going to have lots of fun with this new setup."
The African lions, who have several indoor spaces and an off-exhibit outdoor space, also stayed out of their main yard while their trees were upgraded. The lion keepers say they seemed really excited to explore the new trees.
"It's always impressive to see how observant they are," said Jason Bredahl, animal care manager in African Rift Valley. "They spent lots of time smelling the new trees. Then, we all got a big kick out of watching them using the trees like giant cat scratching posts and to rub their faces on them. The African lion keepers will be able to use the new trees to provide even more enrichment and training opportunities that allow our lions to engage in their natural behaviors while they explore and investigate. It's great to see projects like this come to life, and to see how much our animals enjoy the outcome."