In October and November 2019, Cheyenne Mountain Zoo joined Giraffe Conservation Foundation, Colorado State University Veterinary Teaching School and other worldwide partners to support Uganda Wildlife Authority in establishing a new population of critically endangered Nubian giraffe.
CMZoo VP of Mission and Programs, Dr. Liza Dadone, traveled to Uganda to assist with the reintroduction of 15 giraffe to an historic habitat where they haven't existed in nearly 25 years. Dr. Dadone assisted with research and anesthesia, and provided care for the giraffe during the translocation from Murchison Falls National Park to Pian Upe Wildlife Reserve.
"The reintroduction of this founding population of Nubian giraffe to Pian Upe is important because the established population in Murchison Falls is facing threats due to oil exploration, road development for drilling vehicles and other human impact issues, like snaring," said Dr. Dadone. "The population is also dealing with a skin disease, which we have been studying and were able to do additional research on while we were there for the translocation."
Uganda Wildlife Authority protects and monitors the Nubian giraffe in Murchison Falls National Park. When oil was recently discovered in the park and construction to support drilling began, Dr. Robert Aruho, Uganda Wildlife Authority senior wildlife veterinarian, coordinated with partners to lead the effort to establish the population in Pian Upe, a protected wildlife reserve.
Uganda Wildlife Authority identified giraffe from the population in Murchison Falls National Park that were ideal for establishing the new population. The giraffe would need to be young and healthy, but old enough that they weren't dependent on their mothers' milk.
After identifying key members of the population, the team went into the park to capture them. The process involves locating the giraffe, administering anesthesia, reversing the anesthesia, doing a quick health assessment, collecting blood and flies from the giraffe, and then fixing guiding ropes and a harness to the giraffe. All of this happens within a few minutes.
"Members of the team have to be quick once the giraffe is down, because it's dangerous for the giraffe to be under anesthesia for very long," said Dr. Dadone. "While a few members of the team hold the giraffe, others apply a blindfold and put cotton in the giraffe's ears to minimize stimulation and keep the giraffe as calm as possible. At the same time, we administer the anesthesia reversal; take blood, fecal and skin samples; and document other measurements that we use to advance care for giraffe in the wild and in human care."
Dr. Dadone and Dr. Matt Johnston, from Colorado State University Veterinary Teaching School, are part of a team studying a skin disease found in wild giraffe. They also expanded their ongoing studies of field anesthesia, which will be shared with organizations internationally. The anesthesia research continues to make field immobilizations safer for giraffe.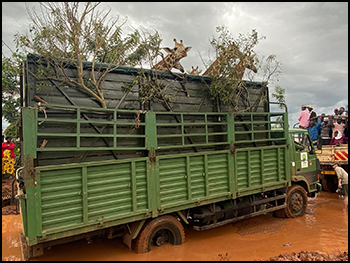 Once the giraffe wakes up from anesthesia, it is guided by ropes onto a trailer and transported to a boma – a temporary holding paddock where the giraffe are monitored and prepared for their trip to Pian Upe.
"While they're in the boma, we're bringing in additional giraffe to transport and are monitoring their health before the trip," said Dr. Dadone. "The time in the boma also gives the giraffe an opportunity to bond. They're social animals and the trip can be less stressful for a group of giraffe rather than an individual."
One of the giraffe selected to establish the Pian Upe population is a young male named Mr. Kevin, who the team quickly realized could make an ideal founding father.
"Mr. Kevin is one of the largest males in the founding group," said Dr. Dadone. "After a day in the boma, we saw him representing himself well with the females, so we're optimistic he will be a great founding father for this new population."
The trip from Murchison Falls National Park to Pian Upe Wildlife Reserve is about 300 miles. Because of flooding on portions of unpaved roads along the way, each of the three trips took between 12 and 16 hours.
"We experienced quite a bit of flooding along the way to Pian Upe," said Dr. Dadone. "There were times the trailer got stuck in the mud, and we had to be towed out. The bright side was that some of the locals got more time to see the giraffe in the truck. Many people think giraffe are everywhere in Africa, but they're not. Giraffe are locally extinct in seven countries, and a lot of local people have never seen them before, so in a way, this group of giraffe served as ambassadors for their species along the way, too."
After the arduous travel, the giraffe were released, five at a time, into the protected Pian Upe Wildlife Reserve in Eastern Uganda.
"Watching the giraffe leave the trailer and run free into their new home was such a joyous moment," said Dr. Dadone. "We're hopeful this new population will thrive in their new home, providing Nubian giraffe another population and a better chance at survival."
Having multiple populations of the same subspecies helps avoid what Dr. Dadone calls having, "all of your eggs in one basket." Geographically diversifying populations means that if one location succumbs to disease or habitat destruction, the subspecies will live on in another region.
Our contribution to this effort is possible thanks to ongoing support from our CMZoo members, guests and donors. Through our Quarters for Conservation program, each ticket to the Zoo raises 75 cents to support wildlife conservation around the world. CMZoo guests and members contribute half a million dollars annually to critical conservation projects, like Operation Twiga, simply by visiting the Zoo.

Back to The Waterhole