Students at Rockrimmon Elementary School in Colorado Springs, are getting their hands dirty (with resounding encouragement from their teachers) to make an important environmental contribution, thanks to their passionate school leaders, supportive communities and a grant from Cheyenne Mountain Zoo members.
In 2018, CMZoo members voted to provide three $3,000 grants to help local schools establish pollinator gardens, totaling $9,000 in support. Rockrimmon Elementary, Penrose Elementary and Remington Elementary received their grants in March 2019. With the arrival of spring in Colorado, they're now hard at work preparing their gardens to nurture flora dedicated to feeding pollinators, like bees, butterflies and hummingbirds in search of natural food sources.
"Pollinators are showing a rapid decline across the country," said Stacey Graham, EdVenture director and pollinator garden grant committee leader. "There isn't consistent data to say it's linked to any specific trigger. But, we do know that when we provide plants that attract those species, they're coming to find them. This project is impactful on so many levels. It lets kids see species they've never seen before, brings communities together and exposes people to nature and its calming affects. "
Pollinators are vital for the production of almonds, cocoa, coffee, watermelon, strawberries and countless other foods on which humans and the entire ecosystem rely.
In addition to supporting an important conservation effort to prevent the further decline of pollinators and the foods they pollinate, this project helps CMZoo members, grant beneficiaries and staff connect directly with a conservation effort and with each other.
"By supporting these grants, our members are creating a role for CMZoo to be an active participant that makes an impact in our community, rather than solely having that opportunity when our community comes to the Zoo," said Emmaline Repp-Maxwell, CMZoo membership manager. "This is a 'backyard' conservation effort that helps kids develop a sense of capability and accountability for conservation that we hope they'll take into their later years."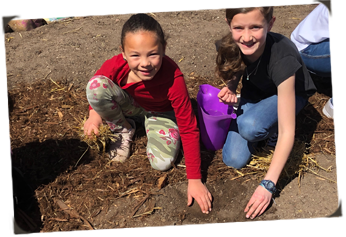 Schools are receiving more than the members' generous financial support. Scott Myers, CMZoo director of facilities, has enjoyed serving as a landscape and horticulture consultant, addressing issues from space limitations to efficient water usage and access.
At Rockrimmon Elementary, the students have been involved with the entire process, from completing the grant application, to designing the gardens, to researching the flowers to plant, to doing the dirty work themselves.
"I feel like the larger space will help with all of our learning and it is so welcoming," said Cade B., Rockrimmon Elementary student. "I also think there will be many more pollinators visiting the garden. I'm hoping our garden will become a favorite fancy five-star pollinator restaurant."
Rockrimmon Elementary'plans to include a meditation path and an outdoor classroom environment in their pollinator garden to serve core subject curriculum.
Putting our pollinator garden together from scratch has given our students the opportunity to study landscape design and construction work, and practice collaboration skills with people of all ages and backgrounds," said Stacie Johnson, Rockrimmon Elementary fourth grade teacher. "I look forward to our students having the opportunity to walk along the meditation path and to observe nature in our new outdoor classroom. This garden will not only provide educational opportunities but will also provide a safe place for emotional well-being."
Annually, $100,000 of membership revenue supports conservation efforts worldwide. Of that total, $75,000 is dedicated to Member Conservation Vote projects and $25,000 is allocated to CMZoo legacy conservation partners, through the Quarters for Conservation program.


"It's important to our members," said Repp-Maxwell. "Clearly, they're aware of the pollinator crisis and want to help the Zoo find opportunities to connect with and benefit our local community."
This year, CMZoo members displayed that continued enthusiasm for the program, by voting the Pollinator Gardens grant as the second-most-supported grant out of eight nominated projects, two years in a row. Noticing the members' gusto for the gardens, the CMZoo Member Conservation Vote committee increased the number of grants to five recipients, totaling $15,000 in contributions for new pollinator gardens in Spring 2020.
For more information on the 2019 Member Conservation Vote grant winners, receiving $75,000 in support from CMZoo members, check out this overview.