In the coming weeks, 9-year-old female Red River hog, Zena, will head northeast to Rosamond Gifford Zoo in Syracuse, New York. Her relocation supports the Red River Hog Species Survival Plan (SSP), with Zena moving as a companion animal.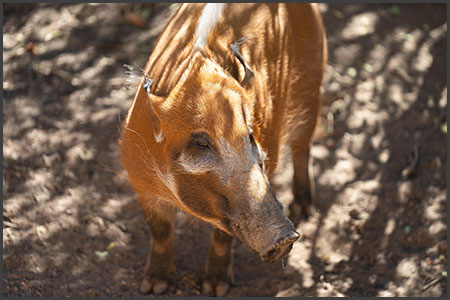 To prepare her for the move, her care team has been refreshing her voluntary crate training, as Zena will be fully awake for the trip. Zena came to CMZoo from another zoo accredited by the Association of Zoos and Aquariums (AZA) in 2019, and quickly adapted to her new home with the support of her team. For this move, her keepers will also work with her new care team at Rosamond Gifford Zoo to make Zena's transition go smoothly again.
"She was an excellent mother during her time with us here, and I know she'll be a great companion and ambassador for her species in her new home," said Brooke Powell, animal keeper in African Rift Valley at CMZoo. "We'll miss her, but this gives even more people an opportunity to fall in love with Zena and Red River hogs as a species."
Zena, whose keepers describe her as expressive, vocal, sweet and commanding, had two hoglets, Augustus and Pinto, with CMZoo's late male Red River hog, Huey. Huey's genetics were extremely valuable to the assurance population in human care, because his family line was relatively rare.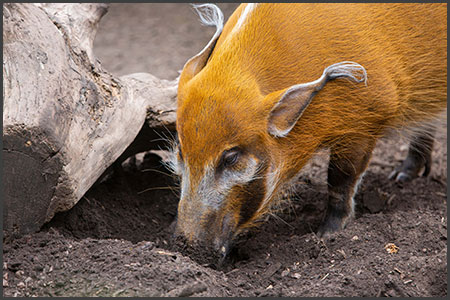 Now, it's young Augustus "Gus" who has the breeding recommendation. Zena and Huey's 1-year-old son, Gus, will stay at CMZoo. He'll soon meet his first-ever potential mates: two 7-year-old Red River hog sisters from another AZA-accredited zoo.
"Gus is not quite mature enough to breed with the incoming sisters yet, but we're hopeful they'll be a good match when he's ready in the next year or so," said Powell. "Gus is used to living with other hogs, so we're excited we can welcome the girls and introduce them as companions along the same timeline that Zena will be leaving."
CMZoo has long supported the Red River Hog SSP by serving as a breeding facility. CMZoo has welcomed six healthy hoglets to the world since 2008, when Huey moved to the Zoo.
"It's always exciting to contribute to a species by welcoming babies, but Red River hoglets are especially adorable," said Powell. "They have these really cute brown-and-orange striped coats and tiny pink hooves, and they're known for having zoomies almost nonstop."
The African Rift Valley team is keeping their fingers crossed that Gus will help bring even more hoglets into the world in the coming years. According to the International Union for the Conservancy of Nature (IUCN) Red List, Red River hogs' wild populations are decreasing. Guests who would like to wish Zena well on her travels to New York should plan to visit her when she's outside with Gus in the Red River hog yard on warm and sunny fall days, before mid-November.