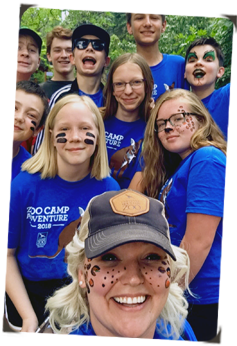 It may feel like spring just arrived, but it is time to start planning for summer vacation! With Zoo Camp options for kindergarten through 12th grade, there is truly an adventure for everyone.
New this year: each camp week has an over-arching theme that all grade levels will explore in their own adventurous ways (more about that below). There are also new ways for families to get involved with camp this year, featuring a few "Flock Parties" during the evenings. We are very excited about these new opportunities and can't wait for summer to start!
An example of an over-arching theme for a week is "Critter Construction," focusing on all the ways animals can be architects and build amazing structures.
The kindergarten group will spend this week discovering Beastly Builders components of a mini animal exhibit; then spend a day collaborating with other CMZ camp groups to assemble their creations into one dynamic diorama of Cheyenne Mountain Zoo!
1st/2nd grade campers will focus on Structures for Species, exploring what animals prefer in a dwelling. Do they build their own? Do they take over other homes? Campers will also get a hand at building their own structures!
3rd/4th grade camp for this week will look at Animal Architects, like those phenomenal animal builders: birds and beavers. Then, the campers become architects themselves!
5th/6th graders will become Eco Engineers, building structures that can help animals survive in the wild. Sometimes these structures are man-made (like some penguin nests) and others are created by nature (like kelp forests).

Even teens can attend Zoo Camp. 7th through 12th graders get the opportunity to discover what it is like being a part of the CMZoo community. Learning directly from seasoned Zoo teens, these camps focus on peer engagement and diverse Zoo experiences.
All these options (plus a few more for each age group), more information, and registration can be found at cmzoo.org/summercamp. Be sure to sign your child up for the grade they are entering in the fall. Summer camps are very popular and space is limited, so sign up your camper today!


Back to The Waterhole Home Page