If Aaron Lippy and Kaitlyn Tullberg, two Teen Program participants at CMZoo, are any indication of the next generation of conservationists – rest assured, the planet is in good hands. The two enthusiastic high school students recently returned from a six-day off-the-grid CMZoo Teen Program adventure in Glacier National Park.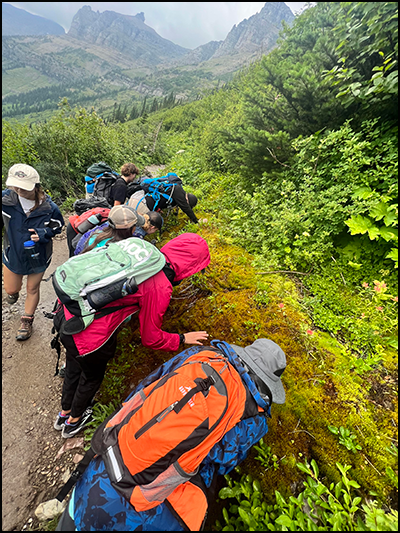 Tullberg and Lippy were in a group of 9 teens led by Austin Kennedy, CMZoo Teen Program supervisor, and other Zoo staff. Their wild adventure was full of brand-new experiences like camping, hiking, and making lasting connections with each other and the wildlife and wild places they explored.
CMZoo's Teen Program focuses on spending time exploring nature, learning about animals, and understanding other cultures. The program is known for its hands-on educational experiences at the Zoo and in nature, with exploration trips available for Teen Program participants year-round. These summer trips take place annually, and they connect teens to local, national, and international wildlife and wild places. Each destination, adventure, and educational opportunity is intentional, and supports the program's overall goal to inspire future leaders in conservation and animal care.
"We want to get them immersed into a really wild and protected area to see what can happen when people come together to protect the wild world, and national parks are a great example of that," said Kennedy. "Giving teenagers, especially, these opportunities to get off their phones and into the natural world is important, and it's really rewarding to watch their inspiration and excitement grow over the week we spend together."
The group had an action-packed itinerary. They hiked daily and explored special places, like the National Bison Range, where they saw a black bear, a bald eagle, a lot of bison and the iconic Flathead Lake.
"We learned so much on this trip; it's kind of insane, actually," said Tullberg. "We learned about the seven signs of leave no trace, like taking only pictures and leaving only footprints. We learned about endangered species and how we can help protect them by taking action to keep the land wild. I think the overarching theme is being stewards of our environment in all of the ways possible – whether we do that by staying on trails and picking up trash or educating and inspiring others, just like this trip educated and inspired us."
Some of the teens' favorite memories were picking wild huckleberries, taking a night swim in the lake, and interacting with the ecosystem through workshops that took place in exciting locations – like in the middle of a stream. But, just sitting around the campfire and bonding over shared experiences was a big part of the adventure, too.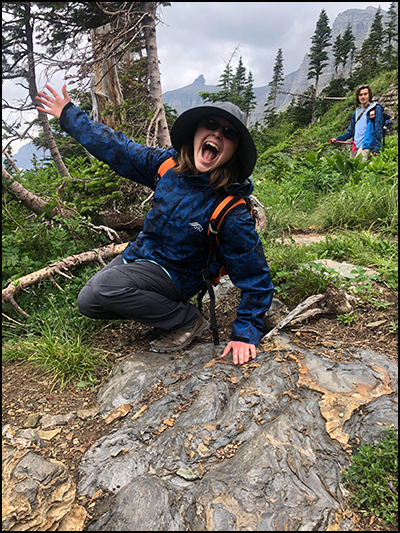 "At this stage in my life and with the careers that I want to have, it's necessary for me to get out of my shell and camp in the woods, basically," said Lippy. "I thought this trip would be the perfect opportunity and it really was. We connected with the land and with each other, and it helped me feel more confident relating to other people."
At the end of each day, the group had their meal together and talked about what they'd learned, or how they interpreted the day and the impact it made. They also bonded as teenagers who are growing up in a world with a lot of distractions.
"To just sit around a fire and just 'be in the world' brings out the best parts of people, and these kids don't get a lot of those opportunities," said Kennedy. "Who you truly are starts to come out when you're in the wilderness. I was so proud of this group's focus on taking intentional time to be still and to figure out who you are at the core without distractions and devices. They'll always have these special experiences with one another."
They also studied survival skills, wildlife ecology and more at the Glacier Institute outside of Columbia Falls, Montana. The Glacier Institute is an outdoor education organization that focuses on getting people outdoors and connecting them to the wild world of Glacier National Park. The Glacier Institute is the official education partner for Glacier National Park and Flathead National Forest.
If you know a teen who could be interested in connecting with like-minded teens through programs at the Zoo and in the field, check out requirements and opportunities at cmzoo.org/teenprograms.