Many people wonder how we find the amazing staff who care for our animals. What are their backgrounds? What makes them qualified? How do they work together? Just as our year-round sponsor, Children's Hospital Colorado, shares tips on choosing great child care, we're sharing what we look for in the incredible folks who care for our animals and how their positions support each other.
It takes a lot of dedicated people to make sure Cheyenne Mountain Zoo's animals receive the best possible care, whether that's ensuring the animals are physically and mentally stimulated, their habitats are clean and engaging, their diets support their nutritional needs, and any medical issues are addressed.
In addition to having the skills and experience necessary to care for our animals, our animal department staff is passionate about helping guests get to know the animals. Our goal is always to help people make personal connections with animals, which we hope will inspire them to take action to protect species in the wild.
From keeper assistants to keepers and lead keepers, animal care managers and more, our team members' animal care experience varies, but attention to guest service is a trait CMZoo values just as equally.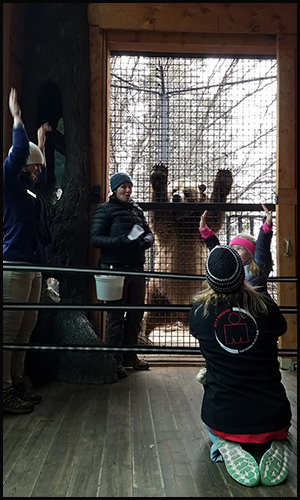 "Our animal department team members have a variety of experience, but all have experience working with animals and the public," said Jeff Halter, vice president of animal collections. "We look for people who are passionate about animals and people. It makes our searches for candidates somewhat difficult, because some people who get into this field are there for the animals and might not immediately see the importance of helping people care about them as much as we do. That may make you a successful candidate for other organizations, but not here. The passion here has to be for connecting guests and animals."
Although that combination of skills can be hard to find, it's vital for reaching our organization's goals. Our animal care staff is a unique group of people who can comfortably communicate with people and animals, while being able to act calmly under pressure and work in challenging physical environments.
"When we interview potential new team members, I'm looking for qualities that your parents probably taught you. 'Be a good person. Be nice. Share.'" said Halter. "You need to have worked with mostly exotic animals, and also have similar philosophies about how animals in human care are managed. Your background and experience need to align with ours, so that we can trust that your assumptions about how we'd like you to manage something without immediate managerial input are correct."
Keeper assistants are there to help animal keepers with day-to-day tasks, like feeding, preparing enrichment for animals, and preparing and distributing animals' diets. Handling these tasks allows keepers to focus on animal training behaviors and demonstrations that help connect guests with animals. Keepers are fundamental in monitoring animal welfare and relaying any issues to veterinary staff and management, so decision makers are connected and can act quickly to address those issues.
Lead keepers maintain a bigger picture of what needs to occur daily in their animals' areas. They set goals and work with managers, keeper assistants and their fellow keepers to make sure projects are being completed. They also act as a voice to relay animal updates and direction between managers and keepers.
Animal care managers each oversee multiple animal areas. For example, one manager oversees Monkey Pavilion and Primate World, while another oversees Australia Walkabout, Rocky Mountain Wild and Asian Highlands. They also manage the keepers in those areas, handling their schedules, training and more.
They're also focused on working with Association of Zoos and Aquariums (AZA) Taxon Advisory Groups – which examine the sustainability and conservation needs of entire taxa and develop recommendations for population management and conservation based upon the needs of the species and AZA-accredited institutions. They're also responsible for working with each species' AZA Species Survival Plan (SSP) to make sure we're following breeding recommendations and transporting or receiving animals, based on those recommendations. As part of their work with SSPs, they manage the introductions of animals to each other to support breeding or companionship plans.
"People who are successful at Cheyenne Mountain Zoo are positive, solutions-oriented people," said Halter. "You have to have the ability to work as a team, sharing your experiences and skills with others to help us all grow as an organization. We become leaders in our field by doing the good work here and sharing it, so it will spill over and impact the greater Zoo profession."

Back to The Waterhole