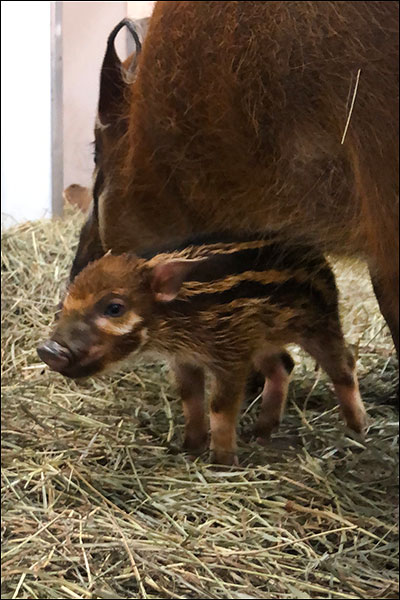 Tiny pink hooves, a dazzling orange coat with brown stripes and spots and a big personality. We must be talking about our newest addition: a 2-week-old Red River hoglet that is zooming its way into our hearts.
"This little baby has been growing in leaps and bounds over the last two weeks, and its energy level is doing the same," said Lauren Phillippi, lead keeper in African Rift Valley. "We've seen lots of zoomies and playful antics, like running around mom's feet, getting bursts of energy and making good use of those little legs."
The little one has been seen jumping over logs, burrowing into soft piles of hay and excitedly bouncing between the rooms in its indoor space. When baby isn't on the move, it is nursing well and snuggling with mom, 8-year-old Zena. It has also been picking up pieces of Zena's produce, like lettuce and broccoli, with its mouth and tossing them aside. The baby will continue to nurse for at least the next few months.
Since the hoglet and Zena are doing well, staff haven't needed to examine the baby up-close, which means its sex has not been confirmed. There are no immediate plans to name the baby, but fans can keep an eye on CMZoo's social media channels for updates.
"We're giving them lots of time to bond, which is really important for mom and baby," said Phillippi.
When a new baby joins the CMZoo family, keepers rely on the trusting relationships they have developed with the mothers. Animal care teams can observe the baby and encourage it to move with Zena into different spaces – so they can clean spaces and feed Zena, for example – because Zena feels comfortable with the team. Encouraging a baby into a different space is usually dependent on whether the mom wants to move because young animals, like this hoglet, usually instinctively follow their mothers.


Zena is calm around the baby and approaches keepers from behind a barrier with baby in tow. The hoglet has been seen several times curiously exploring its indoor den a few feet away from Zena, then hurriedly rejoining her side. Next, the team will observe Zena's level of comfort with taking the baby outside, where guests could see it. There's no exact timeline in place, so for now, the baby and Zena will remain in their behind-the-scenes indoor den.
The little hoglet is eating well and growing quickly. Red River hoglets are often described as having a watermelon pattern when they're born. Just like adult Red River hogs, hoglets have the signature bright orange coats, but the babies also have brown and white stripes that run the length of their bodies, along with little brown and white spots all over. Those stripes and spots usually fade in about six months, but act as important camouflage in the meantime.
This is Zena's second hoglet, after Pinto, who was born at CMZoo in April 2021. Zena came to CMZoo on a breeding recommendation with Huey, CMZoo's 15-year-old male Red River hog. Huey has been a great father to Pinto, and four others. Red River hog fathers are active in raising their young. For now, Zena and baby will get time to bond alone, while Huey and Pinto spend time together in their indoor and outdoor spaces.
Guests can visit Huey and Pinto in African Rift Valley now. Follow CMZoo's social media channels for updates on when Zena and the hoglet will make their public debut.