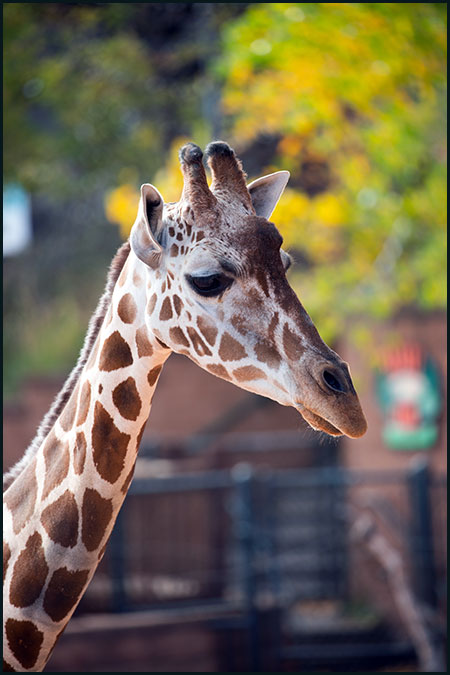 Bailey, a 10-year-old reticulated giraffe at Cheyenne Mountain Zoo, is expecting her second calf any day now. Anticipating the birth of a giraffe calf can be a roller coaster of emotions: excitement, wonder, impatience, nervousness and even worry.
Since establishing its giraffe breeding program in 1954, Cheyenne Mountain Zoo has welcomed 202 giraffe calves to the world. Through experiences with mothers and calves, the team has gained invaluable institutional knowledge that will guide them through Bailey's pregnancy, labor and first moments as a second-time mom. Although every birth, calf and mother is unique, there are common milestones that help Bailey's care team recognize whether things are on the right track.
Giraffe gestation, or length of pregnancy, isn't an exact science. Giraffe pregnancies typically range between 14 and 16 months, which can make planning for the birth a bit of a guessing game. CMZoo's breeding bull giraffe, Khalid, and Bailey last bred on July 19, 2021. That means Bailey's due date window is Sept. 19 through Nov. 19, 2022.
"Most of us believe the baby will be born about mid-way through that window because Bailey had her last calf right around 15 months," said Rachael Hahn, senior lead keeper in African Rift Valley. "My guess is September 30."
Giraffe fans can submit their own guesses about when the calf will be born at cmzoo.org/guess. The person who guesses the closest day, time and minute Bailey gives birth will win a behind-the-scenes encounter with the CMZoo giraffe herd. (Visit cmzoo.org/guess for rules and details.)
Although the giraffe care team closely monitors Bailey's pregnancy, labor and calf, their goal is to remain as hands-off as possible. They support Bailey through environmental changes that will best support mom and baby, like getting Bailey used to having her own room at night. The birth stall is in the same barn as the rest of the herd, separated by a fence. Bailey still gets the social interaction she enjoys from the herd and has space away from others to make her labor as calm and safe as possible. She shares the birth stall with Msichana, a 20-year-old female giraffe.
"We know we're getting really close to labor when we see certain physical changes in Bailey," said Hahn. "We will see changes in her udders. Typically, a few days before birth, the tips of a giraffe's udders look waxy because colostrum is building up and starting to drip."
During the day, Bailey will continue to join the herd in the main yard. If Bailey goes into labor in the main yard, as she did last time she had a baby, keepers are confident they'll be able to move her into the birth stall, relying on the trusting relationship they have with Bailey. Giraffe labor has been known to last up to 10 hours, and typically the calf's front hooves are the first part to emerge.
"We know our giraffe lovers start to worry when a giraffe is in labor for a long time, but we don't have concerns unless we see a mother really struggling," said Hahn. "It's different for every giraffe, just like it is for every human. Bailey's first labor lasted nearly four hours, and we didn't see her struggle. She did lie down momentarily, but she stood back up just as soon as we asked her to."
Another reason it's best for Bailey to give birth in the separate stall is because the team brings in a special substrate – or floor covering. Giraffe regulars will notice the team is using a new kind of substrate this year, which has a red tint to it.


"The substrate helps cushion the baby's fall when it is born," said Hahn. "Giraffe calves fall about six feet to the ground when they're born. It can seem like a jarring way to come into the world, but it's important because the bump to the ground severs the umbilical cord and stimulates them to breathe. The substrate also helps absorb fluid so the calf and mom have better traction, which is especially important when the little one is attempting to stand for the first time."
Once the calf is born, it can take a few hours for it to stand on its own. It's normal to see mothers nudging calves with their feet and noses, encouraging the calf to stand. Learning to use those long legs for the first time is no easy task – especially when you're only a few hours old.
"We expect to see a calf tumble and stumble, but as long as they're trying, we're happy," said Hahn. "It can be a hard thing to watch if you've never seen it before, but it's totally normal for mom to nudge them and for the calf to take a lot of spills before finally standing up."
After standing, it's usually time to eat. The giraffe care team likes to see a newborn calf nursing from mom within the first several hours. They watch closely for that important first meal of colostrum, which contains antibodies that give the baby a boost. In case the baby doesn't nurse, the team has bottles and formula on standby.
CMZoo houses a Giraffe Plasma Bank for newborn calf emergencies, so this baby would also have immediate access to that treatment. The potentially life-saving plasma has been donated voluntarily by other members of the herd, and has been proven to help struggling newborn calves in the past.
The following few days and weeks, the calf and Bailey will continue to bond moving in and out new spaces both inside and outside as well as meeting new members of the herd. Keepers will watch Bailey and the calf's behaviors to help determine when those big adventures occur.
"Ideally, Bailey takes the lead on raising the calf and staff will only intervene if it's medically necessary," said Hahn. "Bailey did an amazing job with her first calf, BB, and we're cautiously optimistic that she and her new calf will be successful together, too. Of course, we're ready to support them as much as we can if they do need our help."
When Bailey goes into labor, Cheyenne Mountain Zoo plans to share the birth of her calf on its social media channels. Fans can check in on Bailey in her overnight birth stall, and see the herd outside during the day, at cmzoo.org/giraffecam or on the Zoo's YouTube channel at youtube.com/cmzoocs.